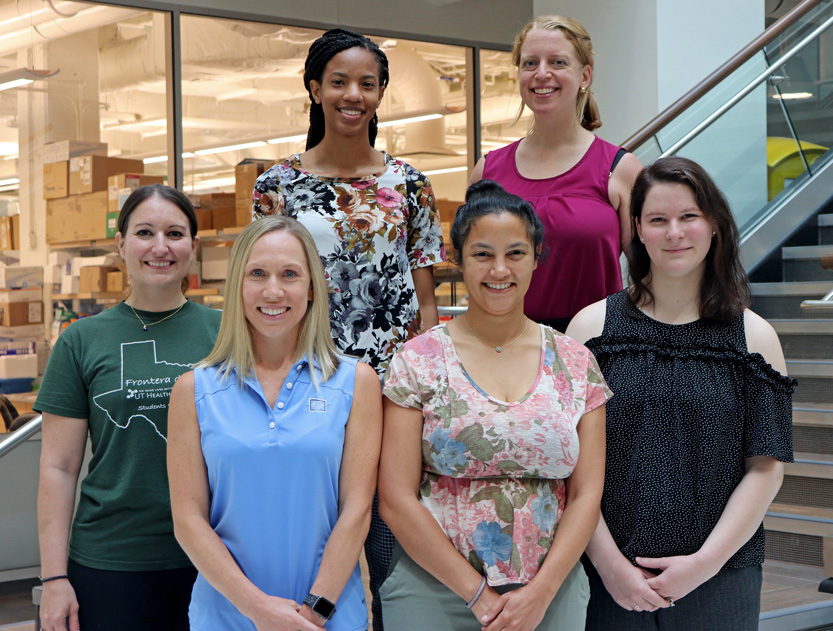 Visit the NCSP national website to review the newly admitted NCSP 2022-2024 national cohort.
Jeylan Close, MD
Pediatrics-Psychiatry, Children's Hospital of Pennsylvania
 
Tyra Girdwood, RN, PhD
UNC School of Nursing
 
Ceshae Harding, MD
General Internal Medicine, Duke 
 
Gabriela Plasencia, MD
Family Medicine and Community Health, Duke 
 
Carri Polick, RN, PhD
University of Michigan
 
Judith Vick, MD
General Internal Medicine, Johns Hopkins
Kamal Golla, MD, MPH




Research Focus Area:

 

Developing value-based care redesign pathways for urologic oncology patients and investigating targets for financial toxicity mitigation


 

Melissa Harris, BSN, RN, PhDc

 


Research Focus Area: I

mproving the quality of life and care for older adults living with dementia and their family caregivers by examining innovative, non-pharmacologic interventions to better manage challenging symptoms of dementia


 

Jennifer May, MSN, RN, ANP-BC, PHDc

 
Research Focus Area: 

Investigating the role of healthcare workers' implicit bias (i.e., prejudice and stereotyping) toward sexual and gender minority older adults in long-term care/assisted living facilities, health outcomes, and health policy


 

Karen Scherr, MD, PhD

 
Research Focus Area: 

Examining the use of clinic-community partnerships to empower individuals, families, and communities to improve their health and wellbeing, with a focus on reducing disparities in obesity and obesity-related illness
Gillian Adynski, PhD, RN
Research Focus Area: Investigating the role of nurses in building a strong global health workforce to provide high quality and cost-effective health services to populations around the world

Melissa Burnside, MD, MHS
Research Focus Area: Investigating the role of racism and implicit bias on health care, medical education, and health policy

Rachele Lipsky, MSN, PMHNP-BC
Research Focus Area: Investigating gene-environment interactions that increase one's susceptibility to psychopathology, and identifying targeted pharmacotherapies to treat such illnesses

Justine Seidenfeld, MD
Research Focus Area: Identifying and characterizing frequent users of the emergency department, and developing tools to better meet their complex health and health-related social needs in the emergency department setting

Yuqi Zhang, MD
Research Focus Area: Studying the trends of rural/community hospital closures, the policies driving the phenomenon and its effects on access to surgical care
Sallie Allgood, PhD, RN
Research Focus Area: Examining how the integration of community health workers into primary care systems affects patients' health outcomes and primary care utilization as well as population level health disparities and chronic disease risks

Dominique Bulgin, PhD, RN
Research Focus Area: Investigating the influence of stigma on sickle cell disease self-management and identifying interventions to improve the health and quality of life of individuals with sickle cell disease 

Marcelo Cerullo, MD, MPH
Research Focus Area: Investigating lung cancer screening guidelines and surgical referrals, imaging in oncologic decision-making, and insurance market expansion and consolidation

Rushina Cholera, MD, PhD
Research Focus Area: Improving health outcomes and access to care for children in Spanish speaking immigrant families through identifying and mitigating psychosocial barriers to healthcare engagement
Aligning well with the strategic plan at Duke Health and building from our strong track record of training, Duke NCSP focuses its training program on population health and implementation science. This model engages interdisciplinary investigators and community members in the development and conduct of research with the aim of improving health and health care practice by studying the health and health outcomes of large population segments. Our specific approach to training is to ensure each scholar receives comprehensive research training with a focus on population health and implementation science through a combination of didactic course work, seminars, a unique Scholar experience, and mentored research. Scholars participate in a shared training curriculum, which provides them with a fundamental understanding of principles of health services research, population health, and implementation of effective interventions. Research training is tailored to the needs of the Scholars based on their prior research training experience.
The selection of an outstanding mentorship team is crucial to the success of the research experience. Program leadership work intensely with each Scholar, prior to matriculation, to understand her/his research career interests and goals, and then select several faculty members who may provide a good mentor fit. Program leaders, Scholars, and proposed mentors will have a series of meetings to formalize the mentorship team, define projects, and establish timelines. Peer mentoring is a critical piece of mentorship. Each Scholar and her/his identified interdisciplinary mentorship team have a specified research plan that includes primary mentor, institutional support, and methodological mentorship. A typical research plan has the trainee leading a number of focused projects on which s/he is expected to be first author, and has others on which the trainee has secondary involvement for the purpose of gaining experience in a broad variety of research methods related to their research field. Scholars have opportunities to use a variety of health services and research methodologies.