---
Accessing EHR Data at Duke
There are several tools available for you to query Duke EHR data:
---
Types of data available via these queries: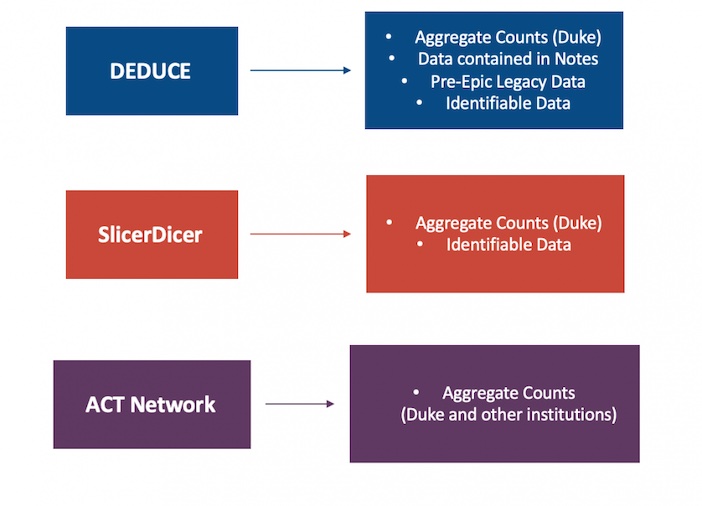 ---
Run your own queries of Duke EHR data:
---
Request data queries from the ACE service team:
DEDUCETM (Service-Now data request, nominal cost based on size and complexity of query).
---
To request services from ACE (Analytics Center of Excellence) for one-time data files, recurring data extracts, data marts, or other offerings, visit the ACE Data Solutions for Research site on the Duke Health wiki.
---
Duke Data Service and Hosted Computing
Duke Data Service is a flexible, investigator-friendly service that facilitates the association of data provenance for simple and complex scientific workflows. It provides a secure central data store that allows researchers to use their own hardware (e.g., laptops, workstations, and mobile devices) to gain local access to their data. Duke Data Service provides a web interface for designated research team members to administer fine-grained user access, upload and download files, manage project contents, and much more.
View this page on the ORI wiki. (Internal link; must be logged in)
DEDUCE™ is a self-service, web-based query tool with an intuitive, user-friendly interface that allows for flexible searching of data hierarchies compiled through years patient care. Users with no previous database experience can identify cohorts of patients and extract data while maintaining patient privacy.
What data can be found in DEDUCE?
The DEDUCE™ data set currently covers over 3.4 million patients, spanning 37 years.  The data are refreshed daily with updates provided from a combination of current Epic Clarity and legacy EDW data elements. The data include more than 1.6 billion lab results crossing over 10,000+ socio-economic data elements based on U.S. census data. DEDUCE™ enables the quantification of potential study subjects at Duke based on varying inclusion and exclusion criteria available in clinical records. It can be used to estimate potential recruitment.
DEDUCE™ currently includes clinical information systems that serve DUHS and tools for
Real time tracking of potential research participants (DISCERN)

Geo-mapping of patients using DEDUCE Geo

Text analytic searches of radiology and pathology reports 
With DEDUCE™ you can also search clinical notes, including history and progress notes, operative notes, ED provider notes, consults, and discharge notes (inpatient and outpatient)
If you:
Are looking for data that predates Maestro Care implementation

Need discrete data or data contained in notes

Need simple aggregate counts or fuller limited data sets

Need geographic mapping of patients

Need text analytics of radiology and pathology notes
then DEDUCE™ is the right tool for your project.
How do I get access to DEDUCE?
Users must request a DEDUCE account and be approved by their supervisor.
Click here to learn about requesting a DEDUCE account.
What if I need to work with identifiable protected health information?
Duke has created the Protected Analytics Computing Environment (PACE), a highly secure network space where researchers can analyze and work with identifiable protected health information.
This product provides an individual workspace that is secure and compliant, yet flexible enough to meet the varying needs of educators and researchers. For more information, visit the PACE website.
 To learn more about DEDUCE, please contact Nelda Bradley at nelda.bradley@duke.edu.
Learn how to perform a basic DEDUCE text report search, and how to use settings for DEDUCE text report search.
Note: Certain data (e.g., protected health information from the electronic health record) may only be available to designated employees of the Duke Health System, Schools of Medicine, and School of Nursing.
SlicerDicer is a role-based self-service reporting tool that allows Maestro Care users to customize searches of large patient populations using data exploration tools. SlicerDicer allows you to choose and search specific patient populations to answer questions about diagnoses, demographics, procedures performed, treatments prescribed, lab tests ordered, etc. SlicerDicer can also provide rough counts of the number of patients who meet simple eligibility criteria.
You can also use SlicerDicer to do simple data searches of your own patients with queries such as "Of my patients who complained of headaches, how many have had a CT scan?"
SlicerDicer is designed to let you explore your hunches then refine and reformulate your searches on the fly so you may better understand your patient panels. It's a great starting point for your research questions that may need further exploration with other Maestro Care reporting tools.
If you:
Already have Maestro Care access

Are only interested in Duke EHR data that currently exists in Maestro Care

Are not interested in EHR data from other institutions

Only need discrete EHR data

Are interested in summarized, trending data (not granular data)

Need "yes-no" data (have patients received their flu shots?)
Then SlicerDicer is the right tool for your project.
Learn More about SlicerDicer via the ACE site on the Duke Health intranet
The ACT Network is a nationwide federation of leading academic research institutions that share aggregate patient counts from electronic health record data. i2b2, the tool that allows you to query ACT, is a simple drag-and-drop interface that allows Duke researchers to create queries for EHR clinical information maintained at Duke (i2b2) and across the consortium of Clinical and Translational Science Awardee institutions. The ACT Network is a real-time platform that allows researchers to explore and validate feasibility for studies across the CTSA consortium, all from the comfort of your desktop. ACT currently contains over 125 million patient records, and by the end of 2019 will include ~90% of the CTSA consortium.
At Duke, you have two options for using ACT to obtain aggregate counts:
Use ACT Local via i2b2 to query only Duke EHR data

Use ACT National via SHRINE to query EHR data from all participating ACT sites
If you 
Are a clinical investigator

Have some "big-picture" EHR data needs

Are doing translational or mechanistic studies

Are thinking about a single site or multi-site study

Are interested in exploring patient cohorts/research questions

Designing a study and need to analyze feasibility

Seeking funding and IRB approval

Looking for/forming collaborations
And you don't need to:
Search directly through the text of medical records

Access identifiable data
Then ACT i2b2 is the right tool for your project.