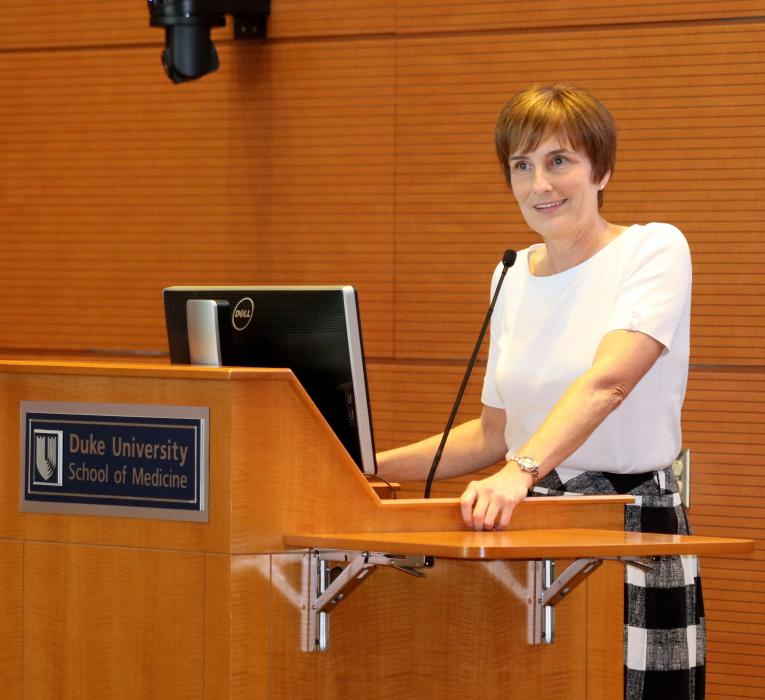 In conjunction with the 10th anniversary of the first participant enrolled in the landmark MURDOCK Study, the Duke CTSI Translational Population Health Research group has announced plans to double its clinical research space at the North Carolina Research Campus in Kannapolis.
"The MURDOCK Study is our foundational study and has paved the way for TransPop's growing clinical research presence in Kannapolis," said L. Kristin Newby, MD, principal investigator for the MURDOCK Study and director for Translational Population Health Research (TransPop). "The value of the MURDOCK Study is its ability to help researchers answer big questions to better understand health and disease. We could not do this work without our dedicated participants."
One of the largest community-based research studies of its kind, the MURDOCK Study Community Registry and Biorepository has more than 12,500 participants and about 430,000 biological samples. People from 20 zip codes in and around Kannapolis and Cabarrus County joined the study. Participants complete a follow-up form every year, and researchers track changes to their health over time.
The study has more than 50 collaborations, including 150 collaborators across 21 institutions, and 47 peer reviewed publications. More than 100 Duke faculty members have used MURDOCK Study samples and data to explore a broad range of research questions, and two new cohorts launched this year, the MURDOCK Fractures and Falls Study and MURDOCK Kidney Health Study.
"I'm excited about all that has been accomplished over the past decade through the MURDOCK Study, and I'm confident and excited about what the future holds. Our core values in the
School of Medicine remind us that we are here to accelerate discovery, advance the care of patients, and to train the next generation of heath care providers," said Mary E. Klotman, MD, Dean, Duke University School of Medicine. "I can think of few projects that are a better example than the MURDOCK Study of how we are living out these values in the work we all do at Duke."
To continue to support a growing network of investigators and their research projects and to better serve participants and study staff, TransPop will double its state-of-the-art clinical office to 10,100 square feet, giving the group much-needed space to onboard new studies based in Kannapolis, Newby said. Construction is expected to take place this fall on the third floor of the North Carolina Research Campus Medical Office Building.
"The planned expansion will create an ideal research environment for our investigators, study participants, and our staff," Newby said.
She noted the TransPop expansion coincides with an ambitious overhaul of downtown Kannapolis and encouraged Duke collaborators to visit.
"We will have an incredible view of the new minor league ballpark under construction right outside our windows, part of the $300 million redevelopment of downtown Kannapolis that's underway," Newby said. "You really need to come and see this place."
Duke CTSI is observing the MURDOCK Study 10th anniversary throughout the year. The celebration continues Oct. 12 with the Duke Dash 5K & Healthfest at the North Carolina Research Campus in Kannapolis.
MURDOCK is an acronym that stands for Measurement to Understand the Reclassification of Disease Of Cabarrus and Kannapolis. Duke University School of Medicine received a generous from David H. Murdock through the David H. Murdock Institute for Business and Culture to establish the MURDOCK Study in September 2007. The first participant was enrolled in 2009.
To learn more about collaborating with the MURDOCK Study and Duke CTSI TransPop, go to duketranspop.org.
---
ABOUT THE MURDOCK STUDY
The MURDOCK Study Community Registry and Biorepository is Duke's landmark longitudinal translational research study working to reclassify health and disease through advanced scientific technologies, expertise from Duke researchers, and close collaboration with a strong network of community partners. One of the largest and most unique studies of its kind in the world, the MURDOCK Study ultimately aims to identify linkages across major diseases and disorders to help defeat some of today's leading causes of illness and death. For more information, visit duketranspop.org.
---
ABOUT DUKE CTSI
The Duke Clinical and Translational Institute (CTSI) catalyzes and accelerates the innovation and translation of scientific discoveries into health benefits for patients and communities through collaborative research. Our NIH Clinical and Translational Science Award funding enables us to offer programs, project management and navigator services, and data sharing and informatics resources that provide essential support to move ideas from the laboratory through early-phase clinical trials, and facilitate education for current and future translational medicine researchers. For more information, visit ctsi.duke.edu.