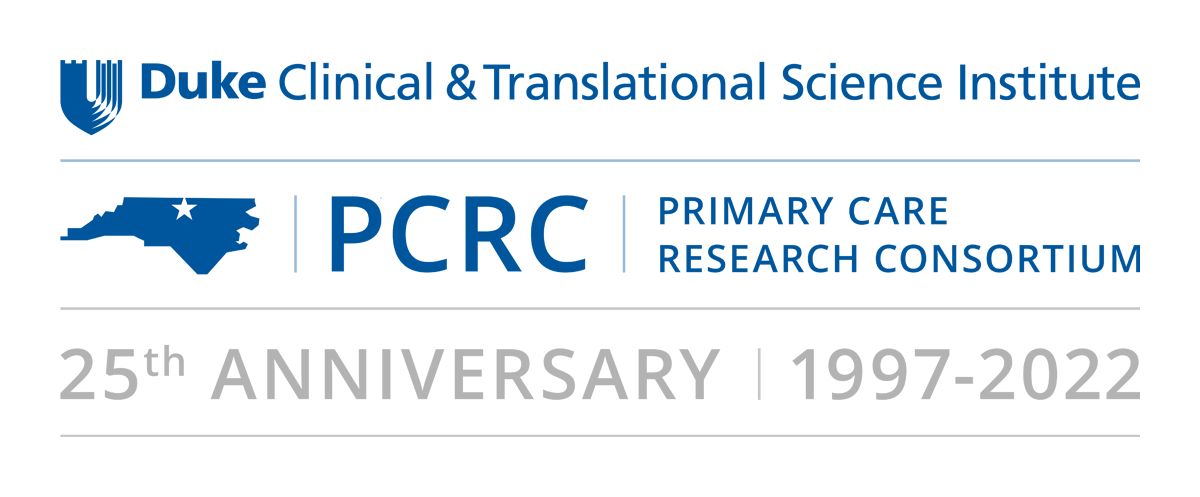 Established in 1997, the PCRC is a primary care research network for academic and community practices within the Duke Health System and surrounding communities. PCRC includes more than 70 practices in 9 counties in North Carolina, which represents close to 200 primary-care clinicians caring for more than 300,000 patients, with access to a total population of 1.2 million. For the past 25 years, the PCRC has conducted over 100 studies, enrolling more than 8000 patients.
---
Our Mission
Our mission is to operate a community-based research network to:
Improve health care delivery and patient outcomes

Provide educational opportunities for clinicians

Support clinician participation in clinical research

Generate research to support the practice of evidence-based medicine 
---
Our Model
Our model consists of a group of dedicated clinical research coordinators and trials assistants trained by the network office. PCRC Project Management ensures that study milestones are completed according to timelines and coordinates contract and financial services for all network practices. Use of this model ensures quality data collection, enhances allocation of site personnel, and protects sites from fiscal responsibility for study staffing.
PCRC faculty ensure that protocols are pragmatic and feasible in busy clinical settings, assist with identifying participating practices, create short study summaries for practice presentations, and obtain feedback from the practices and providers during proposal development, study implementation, and dissemination of results.
---
What Kinds of Projects?
PCRC welcomes inquiries from any researchers interested in collaborating on primary care research topics and is interested in the entire scope of primary care research, particularly that which engages practicing clinicians in the research process.
---
What is the Process?
Investigators interested in exploring collaboration with PCRC are encouraged to contact the PCRC Research Advisory Board at the earliest possible time in the research process. The best time to contact PCRC is during formulation of the research question. The worst time to contact PCRC is a few weeks before a grant is due. An Application Form for PCRC Study Review is available on the Duke Primary Care Intranet or by contacting any of the PCRC personnel listed below.
The Board will review a study proposal and provide feedback regarding likely interest among primary care providers, feasibility and funding requirements. 
Interest: Is the topic relevant to primary care practice? Will the research results improve health care delivery and patient outcomes?

Feasibility: Can the project be carried out with minimal or no disruption of clinic flow? 

Funding: Is there adequate funding to ensure the completion of all PCRC-related research activities?
---
Additional Tips for Investigators
Investigators should keep in mind the following issues when formulating their primary care research questions and designing research projects to answer them.
How appropriate is the study for practice-based research?

How will the research support the PCRC mission?

Are the results generalizable, patient-centered and sustainable?

How will the study impact practices?
PCRC encourages collaboration with one or more PCRC members and/or primary care practitioners in the following areas: 
Development of the research question

Study design, conduct, analysis and interpretation

Budgeting 

Authorship
---
Contact
email: dukepcrc@duke.edu
Ranee Chatterjee, MD
Chair, Research Advisory Board
ranee.chatterjee@dm.duke.edu
---