September 14, 2022, 6pm | 700 Cecil St., Durham, NC 27707
The NCCU/Duke CTSI Partnership Presents: Eagle Talk '22 
Join us for a TedTalk Style discussion presented by Dr. George Cliette on the opioid crisis happening in our own backyard.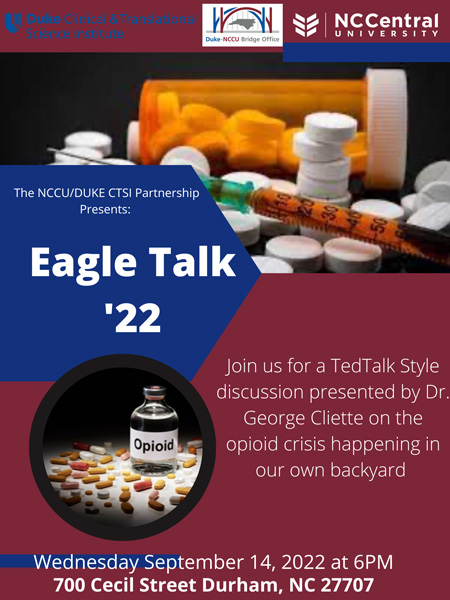 Announcements
July 5, 2022
Dr. Devi Discusses How Stress Can Drive Breast Cancer on WPTF Radio 
Dr. Gayathri Devi was featured on WPTF Radio to discuss her research on how stress factors can impact cellular mechanisms that drive lethal forms of breast cancer.
Listen: https://duke.is/wwgru
June 16, 2022
Dr. Devi Joins Women in Endocrinology (WE) Leadership
Gayathri Devi, Faculty Director of the Duke-NCCU Bridge Office, is currently serving as the Mentoring Committee Chair for Women in Endocrinology (WE). WE is an organization devoted to promoting and facilitating the professional development and advancement of women in the field of Endocrinology.
Visit https://www.women-in-endo.org/news to learn more.

January 28, 2022
The BIRCWH Career Development Program provides salary support (75% effort), funds for research support and travel, advanced training, mentoring, and career guidance for junior faculty leading to an independent interdisciplinary scientific career relevant to the health of women and/or the influence of sex as a biological variable on health or disease.
 
January 05, 2022
NCCU Launches Health Communications Core (HCC) to Expand Capacity in Health Disparities Research