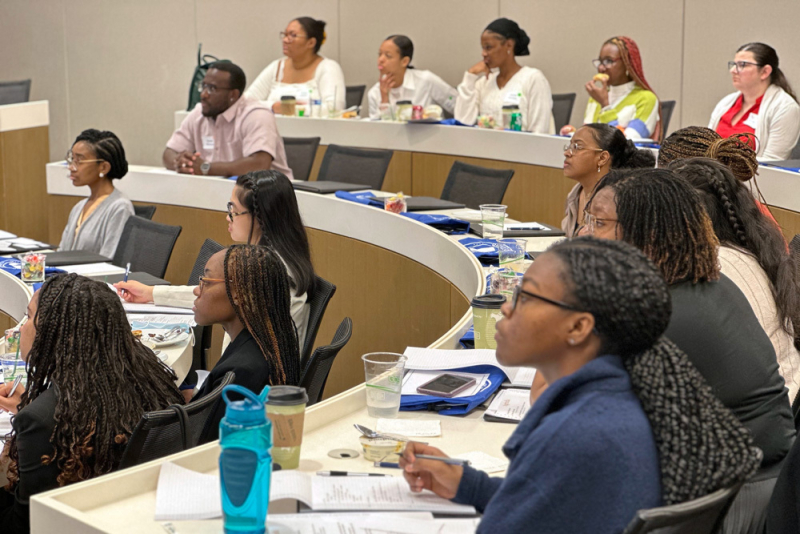 Plans are already underway for the next Duke Neurosciences Career Exploration Day, thanks to the success of the inaugural event on April 29.
Twenty-three students and recent graduates from North Carolina Central University (NCCU) and other historically Black colleges and universities attended the daylong event at the JB Duke Hotel. Attendees gave the event high marks — 87% said they were now more likely to consider a career in neuroscience, and 93% said they would recommend the event to their colleagues.
"Being able to speak with researchers helped me to understand the broadness of neuroscience and how it can be applied to engineering, technology, and, of course, medicine," said Mella Myrick, an undergraduate research student at NCCU. "I would love to participate again."
In addition to NCCU and Duke, students from North Carolina A&T State University, Bennett College, Winston-Salem State University, and UNC-Charlotte attended. They explored 10 different neuroscience careers, participated in mock interviews, reviewed their resumes with Duke faculty, heard about funding options for medical or graduate school, and learned what life is really like as a medical student. 
Co-sponsored by the CTSI's Duke-NCCU Bridge Office, Harmony Biosciences, and Alliance to Cure Cavernous Malformation, the free event also allowed students and recent graduates to connect with potential mentors and learn about research opportunities at Duke. Faculty and staff from the Duke Neurology, Neurobiology, and Neurosurgery departments hosted the event, with outreach support from the Duke-NCCU Bridge Office to HBCUs across the state.
The second annual Duke Neurosciences Career Exploration Day is tentatively scheduled for April 2024.