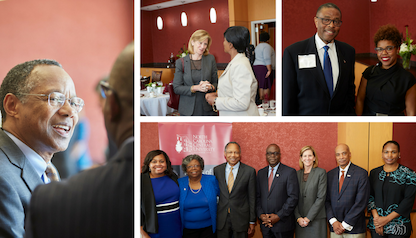 Duke University Health System and North Carolina Central University campus leaders announced a partnership to encourage joint medical research projects and provide training and certification to NCCU students in how to conduct clinical research.
The $1.9 million investment from Duke was celebrated at an event held on the NCCU campus on September 15, 2017, with NCCU Chancellor Johnson Akinleye and Duke Chancellor for Health Affairs Chancellor Eugene Washington signaling their support for a deal initially negotiated between the directors of Central's Biomanufacturing Research Institute and Technology Enterprise (BRITE) and Duke's CTSI.
The agreement is intended to "produce a partnership around developing careers in research," said Duke CTSI Director Ebony Boulware, MD, MPH. "There are scientific strengths N.C. Central has that Duke doesn't have. They're complementary."
The two schools intend to create a degree-supplementing certificate for NCCU students, a course sequence they can use to showcase mathematical and scientific competency in clinical research.
Dr. Washington highlighted the project's potential community benefits, which will include the organization of an annual "health equity conference" in Durham.
A portion of Duke's investment will also fund pilot research combining BRITE's focus on drug development and the Biomedical/Biotechnology Research Institute's work on understanding why some diseases hit minority groups harder with Duke's strengths in patient-centric, clinical research.