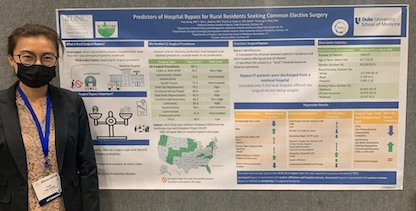 Four Duke National Clinician Scholars Program (NCSP) participants recently attended the 2022 AacdemyHealth Annual Research Meeting, where they presented on the research they've conducted as part of the Duke NCSP program.
Gillian Adynski, PhD(c), RN; Kamal Golla, MD, MPH; Karen Scherr, MD, PhD; and Yuqi Zhang, MD; attended this year's meeting in Washington, D.C. The scholars received the opportunity to meet colleagues from across the county and listen in on presentations that represented the intersection between clinical research and health policy.
"The presenters, participants and vendors were from very broad and diverse sectors and led to interesting conversations and networking opportunitie," said Yuqi Zhang, member of Duke's second NCSP cohort.
Duke is one of six sites within the National Clinician Scholars Program, a consortium of prestigious academic health care research institutions which provides training for doctors and post-doctoral nurses as change agents for driving policy-relevant research and partnerships to improve health and health care. The Duke Clinical and Translational Science Institute serves as the administrative home for the program at Duke.
Attending meetings and conferences such as the AcademyHealth meeting are some of the benefits scholars can take advantage of as part of the NCSP program.
"I was able to network with other NCSP nursing scholars there and talk with other PhD nursing students who were interested in NCSP," said Gillian Adynski, also a member of Duke's second NCSP cohort. "Duke NCSP allowed me to practice a presentation I gave at a pre-conference meeting for the Hillman Foundation on my research. This allowed me to refine my presentation and make it stronger. I felt a lot more confident at the talk since I was able to practice in my NCSP seminar."