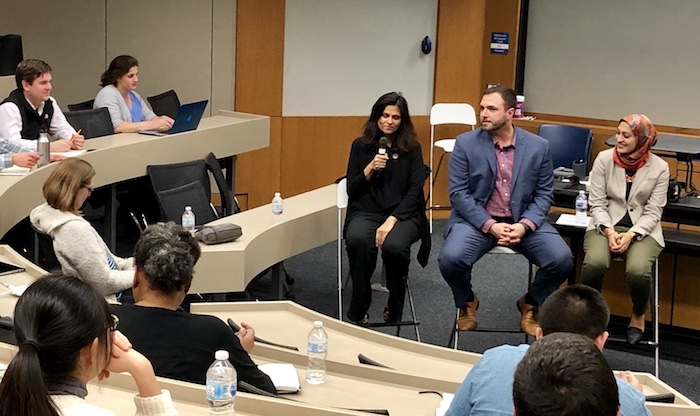 On February 12, Duke CTSI and the Fuqua School of Business's Health Sector Management (HSM) Program teamed up for "Start-ups in Healthcare." The panel discussion featured experts who discussed their success stories and challenges in forming their start-ups, as well as offered advice to attendees.
"Promoting entrepreneurship in health care is a shared objective of the CTSI and Fuqua's Health Sector Management Program," said Amanda McMillan, CTSI Senior Staff Director of Workforce Development. "We're delighted to partner with Fuqua in staging events like this to expose students and health care researchers to the opportunities and challenges inherent to medical innovation."
Panelists included:
Afreen Allam's start-up, SiNON Therapeutics, develops technologies to enhance the effectiveness of pharmaceuticals in patients with neurological diseases. Afreen was excited to participate in this year's panel discussion, saying that it serves as a great resource for the Duke community.
"I wanted students to be able to recognize that things don't always go as planned, but as long as we follow our passions, that's what keeps us going," Afreen said.
Starting out in the start-up world, Afreen believes it's important to prepare for challenges that will inevitably come your way and to surround yourself with a solid support network to help tackle those challenges. Start-ups tend to follow a different timeline than clinical trials, for example, and there are different regulatory hurdles to overcome.
"Oftentimes, people see the successes and assume the path was easy," she said. "A majority of the time, there are many failures along the way. The goal is to keep going, despite all the difficulties, and remain optimistic if you truly believe in the technology."