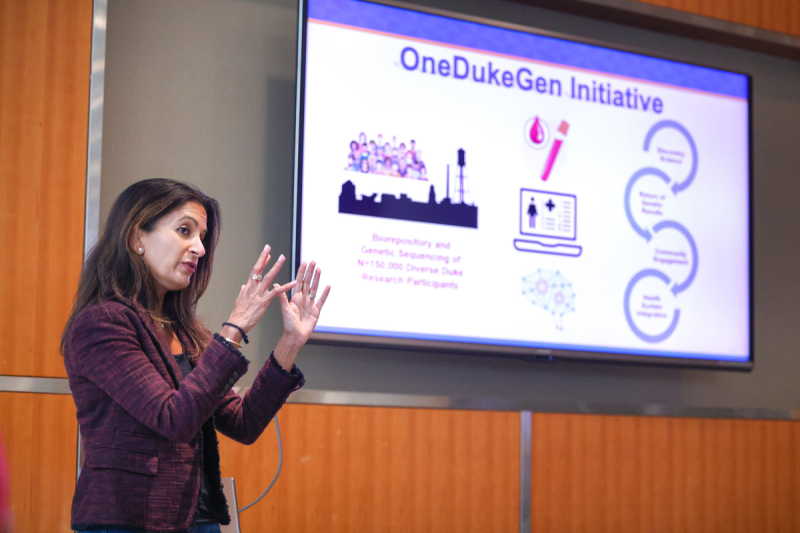 By the time Roger Neighborgall was 66 years old, his heart was wearing out. Without an effective way to pump blood through his body, Neighborgall was experiencing circulatory problems and suffering heart failure.
He had been told he had up to a month to live, but in January 2021, Duke University Hospital provided him with a new lease on life —a heart transplant
Almost three years later, Neighborgall is thriving and looking to give back to the place that gave him the most precious gift of all: time.
"You get a sense of connection [having] somebody else's heart in your chest," he said, "and I feel an overwhelming sense of connection with Duke."
So when Neighborgall was asked during a recent transplant checkup if he would consider joining OneDukeGen, a precision medicine study that will analyze DNA from 150,000 consented Duke patients, he didn't hesitate. "Before it even came out of their mouths," Neighborgall said, "I knew I was going to join." 
As part of the new Center for Precision Health and in partnership with nference, a science-first software company, OneDukeGen will use genetics and precision medicine to make scientific discoveries focused on improving the health and well-being of Duke patients.
"OneDukeGen is focused on using genetic and other scientific discoveries and translating them to patient care in less time," said Svati Shah, MD, Ursula Geller Distinguished Professor of Research in Cardiovascular Diseases and principal investigator for OneDukeGen. "Because of participants like Roger, we will be able to make discoveries to improve prevention and treatment of diseases and enhance health."
Eligible Duke patients will receive an invitation to join the study either during a previously scheduled appointment or through their Duke MyChart portal. Recruitment will be ongoing over the course of the six-year study. Participation is currently limited to established Duke patients.
Once enrolled, participants will provide a blood or saliva sample. Researchers will then be able to analyze DNA, RNA, and other factors to investigate a variety of diseases and conditions. Participants will receive their genetic testing results if they have DNA differences that increase the risk for preventable or treatable health conditions. They may also receive recommendations for follow-up care, such as annual screenings, medication, or preventative surgeries.
Neighborgall often thinks of all the people at Duke who have helped him on his journey. "I owe them so much, and if some of my some of my DNA can help not only at Duke Hospital but maybe, in the future, other hospitals, of course I've got to be part of it."
Visit sites.duke.edu/onedukegen to learn more about the OneDukeGen study and how Duke patients will be invited to participate.