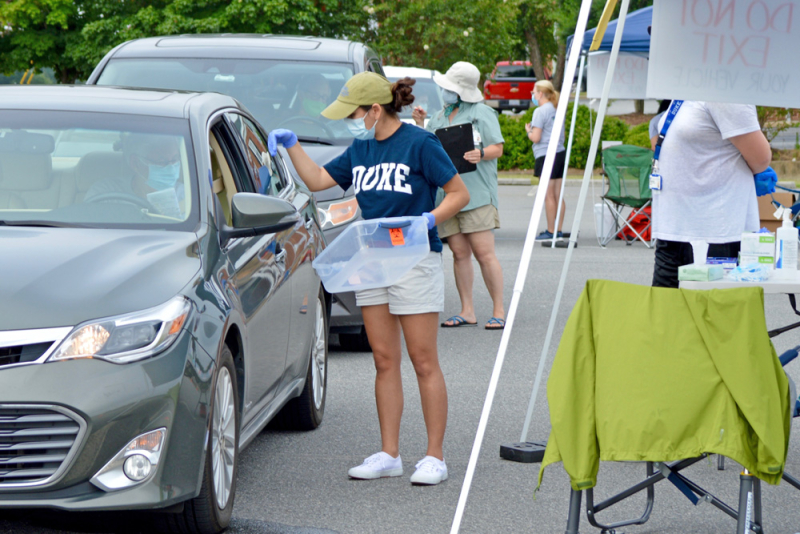 The American Journal of Translational Research (AJTR) published a paper about the methods and design of Duke CTSI's COVID-19 research project based at Duke Kannapolis.
A partnership with the N.C. Department of Health and Human Services, the C3PI study contributed valuable information on community prevalence of COVID-19 infection and SARS-CoV-2 antibodies. The AJTR article published Aug. 30, "The Cabarrus County COVID-19 Prevalence and Immunity (C3PI) Study: design, methods, and baseline characteristics," also highlights the exceptional implementation work done by CTSI's Duke Kannapolis team.
Duke Kannapolis stood up and launched the C3PI study four months after the pandemic hit North Carolina, enrolling 1,426 participants in less than a month starting in June 2020 and following them for 18 months. Participant compliance with a variety of study activities averaged more than 90 percent for the duration of engagement.
Study start-up included sourcing and logistics for 300 study participants to complete biweekly at-home nasal swabbing, sending swabs to the state laboratory for testing. The study also used online surveys to examine how the pandemic affected participants and their households, as well as aimed to understand COVID-19 prevalence and immunity in the community and monitor the disease over time.
Several Duke Kannapolis staff are co-authors, including Julie Eckstrand, director of operations; Douglas Wixted and Brooke Heidenfelder, research program leaders; and Carla Kingsbury, clinical research coordinator. The C3PI study PI L. Kristin Newby, MD, MHS, and co-PI Chris Woods, MD, MPH, also co-authored the paper.