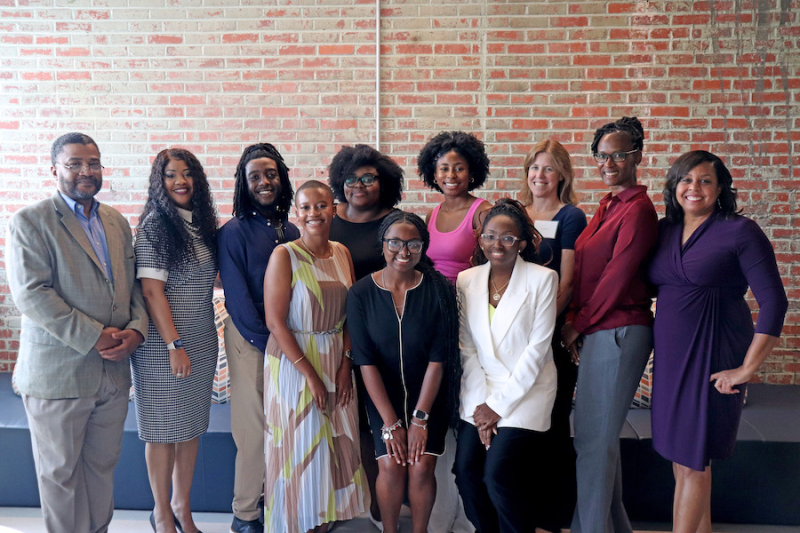 Nine North Carolina Central University (NCCU) students presented on their internship experiences at the 2023 Duke-NCCU Bridge Office Internship Program Closing Ceremony. These scholars represented the second cohort of the program.
The internship program launched in the summer of 2022. As part of the program, the Duke-NCCU Bridge Office collaborates with various partners to provide NCCU students with work experiences in Duke offices and clinical research spaces, connections to professional development resources, matchmaking with mentors, and individualized coaching expertise.
Interns in this year's program worked at Duke Psychiatry & Behavioral Sciences, Duke Clinical Research Institute Government Trials and Networks, and DCRI Research Communications and Engagement. For some of the students, including NCCU psychology student Deanna Floyd, these internships have been extended or led to additional internship opportunities in the fall.
"The internship program gave me the opportunity to work with research scientists within my field of interest. It's been integral to my success as a student, and to my future endeavors," Floyd said.
Launched in 2021, the Duke-NCCU Bridge Office is designed to create multidisciplinary opportunities for collaboration between Duke and NCCU, enrich interprofessional education and workforce development opportunities for trainees, and advance clinical research by developing and supporting mutually beneficial partnerships amongst the Duke University & Health Care System, NCCU, and the communities they serve. The internship program supports this mission by providing students with professional development opportunities.  
"To see the amazing growth that occurs among the students from start to finish and help build a more robust pipeline of future clinical research professionals is truly incredible," said Lisa Davis, PhD, MSPH, director of operations for the Duke-NCCU Bridge Office.  "Our dedicated mentors are amazing and meet each student where they are to ensure successful internship experiences.  We're excited to welcome our Fall interns starting next month and are already planning for Summer 2024 internship opportunities."