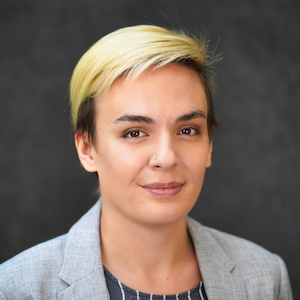 Research Analyst, Evaluation and Strategic Planning Core
Contact Information:
Stella joined CTSI in September 2021 as a Program Manager and Research Analysist for the Evaluation and Strategic Planning Core.
Prior to joining CTSI, Stella worked as an Evaluation and Research Specialist at the Native American Rehabilitation Association (NARA), a Native owned and operated, non-profit agency in Portland, Oregon. There they were responsible for evaluation of two federally funded grants focused on removing health disparities for breast and cervical cancer and hypertension among Native women. Stella also previously worked in clinical settings as a Residential Counselor at a residential home for Psychiatric Security Review Board mandated clients and as a Behavioral Therapist for children with Autism.
Stella holds a master's of arts in psychology from The New School and a bachelor's of science in communications from St. John's University.