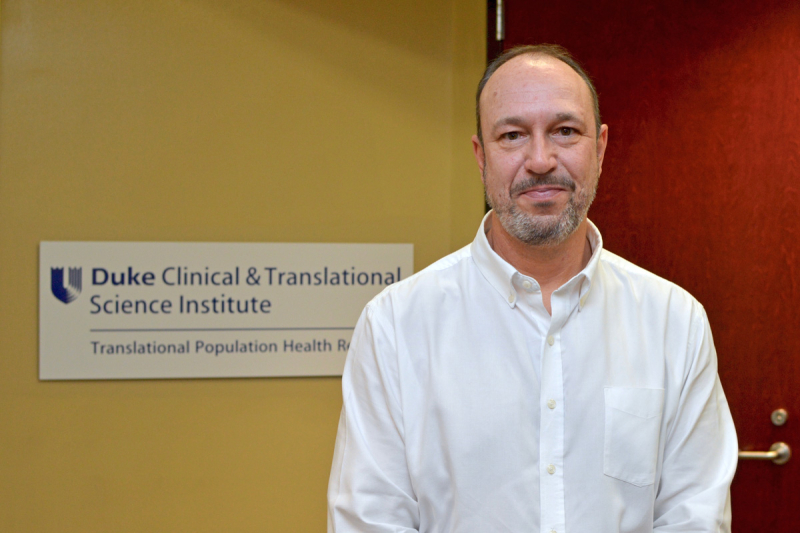 In the midst of a global pandemic, Andy Yoos feels grateful and a little surprised that he can participate in health research studies through a new Duke registry based in Kannapolis.
"I never would have thought I'd have an opportunity like this in Kannapolis," said Yoos, 49, who recently became the 1,000th person to join the Duke Research Volunteer Registry. "Now, with COVID-19 here and across the globe, being part of this registry makes me feel even more proud than before. If I can do anything to make this world a better place, a safer place, then I'm all in."
Yoos joined the online Volunteer Registry shortly before the outbreak of the novel coronavirus, which causes COVID-19. As a member of the registry, he receives emails about health studies that may interest him, based on information he provided to the Duke Clinical and Translational Science Institute (CTSI) research facility in Kannapolis. The Duke Kannapolis office, located on the North Carolina Research Campus, manages the registry.
Through the Volunteer Registry, Yoos signed up for a Duke COVID-19 study that he's doing at home by completing health surveys. Joining the registry and contributing to research feels like making a difference, Yoos said.
"Health research is more important now than ever. I see the potential for life-saving outcomes," he said. "This world we're living in now is totally different than anything we've ever seen before."
Duke cardiologist L. Kristin Newby, M.D. founded the Volunteer Registry.
"We are excited about reaching the milestone of enrolling 1,000 participants in the Volunteer Registry. This virtual registry is a powerful tool for investigators and makes participating in research studies easy and convenient for volunteers," said Newby. "I'm once again amazed and humbled by the support of our community, and we are proud to offer this new opportunity to people throughout North Carolina and beyond. Any adult can sign up."
The Volunteer Registry is designed to collect and maintain information about participants who may be contacted for future studies. Adults 18 and older can join the registry, which has no zip code or geographic restriction. Healthy participants, as well as people suffering from a disease or condition, are invited to join.
"It's a secure directory of adults who are willing to be contacted to participate in clinical research studies. By joining, you give Duke Kannapolis permission to contact you if researchers believe you might be a good fit for a study," Newby said. "Research takes a long time. Having a group of people willing to participate in research speeds up the process of recruiting our community to improve health for everyone."
Yoos said he considers joining the Volunteer Registry and clinical research studies part of his legacy.
"It's about your kids and their kids," he said. "I know I may not see the results of research that I'm contributing to today, but hopefully they can discover something by studying me that helps other people and maybe even my own family down the road."
Yoos said his wife and their children support his interest in participating in clinical research. Donae Yoos worked in the medical field before joining the staff at Concord High School, and the couple have always tried to be proactive about their health, he said. Daughter Lauren will graduate from Concord High School this spring, and son Drew is studying forensic science at Western Carolina University.
"I'm doing this for them," Yoos said.
The risk manager for the City of Kannapolis, Yoos was born and raised in Kannapolis and has watched the city transform from a textile mill village to a clinical and nutrition research hub, anchored by the North Carolina Research Campus. The 350-acre campus is home to eight universities including Duke, as well as other public and private partners.
"It's wonderful to be able to contribute to mankind from here," Yoos said. "We have to embrace the future, and the future of Kannapolis is research."
Learn more about the Volunteer Registry by visiting our website, emailing TransPop@duke.edu or calling Duke Kannapolis at 704-273-5456.