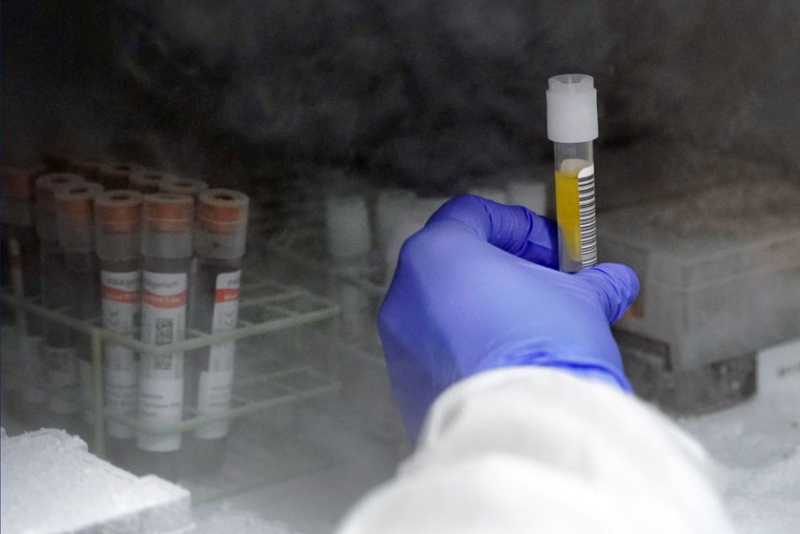 The Duke Clinical and Translational Science Institute (CTSI) has announced a new opportunity for Duke investigators to obtain biospecimens from the MURDOCK Study for research. The MURDOCK study is a landmark longitudinal cohort of more than 12,000 diverse participants linked to clinical data and up to 14 years of outcomes data.
The MURDOCK Biorepository Transformation Initiative, led by the Duke Kannapolis Research group, will work with Duke investigators to convert samples into rich molecular datasets by facilitating access to these samples.
To make the MURDOCK samples easier to access, researchers will only incur costs for biospecimen retrieval and shipment.
"Through this science-forward initiative, we are making thousands of biospecimens and associated clinical and outcome data available to all Duke researchers," said Svati Shah, MD, MHS, professor of medicine, associate dean for genomics, and director of Duke Kannapolis Research. "We are thrilled for the opportunity to share this powerful resource with more Duke collaborators, and we are incredibly grateful to the greater than 12,000 participants who contributed to one of the most unique biorepositories of its kind."
The broad phenotypes included in the community-based MURDOCK cohort provide an excellent opportunity to study many different diseases and longitudinal outcomes, as well as serving as matched controls.
Duke investigators should complete this brief interest form as a first step toward tapping into the MURDOCK Biorepository Transformation Initiative. Duke Kannapolis staff will work with investigators to quickly to gain access to biospecimens.
Duke Kannapolis, which offers full-scope clinical research capabilities, has a long history of providing biospecimens to accelerate research. Paul Ferrell, who directs the laboratory of Salvatore Pizzo, MD, PhD, said that MURDOCK samples allowed his team to rapidly examine the longitudinal expression of a protein of interest.
"While studies of this nature are often prohibitively expensive and time consuming for individual research groups to undertake, the centralized nature of the MURDOCK Study allowed for what would have ordinarily been a 10-year study to be condensed into mere months," Ferrell said. "The MURDOCK team was efficient to query and curate the databases to identify patients and corresponding samples to facilitate our studies, and the preliminary data has been fruitful and led to ongoing studies into the role of this protein as a biomarker in cardiovascular disease."
Research fueled by the new Biorepository Transformation Initiative can be combined with or complement study design and data collection, or support pilot work.
"I have had the pleasure of working with the MURDOCK team for over 10 years, and they have consistently been a wonderful partner," said Miriam C. Morey, PhD, co-director of the Duke Older Americans Independence (Pepper) Center and principal investigator for a MURDOCK subcohort. "We are excited that we have several years of longitudinal data collection on our Health Aging Physical Performance Across the Life Span study (PALS), which we can match with collected biospecimens. … There are endless possibilities in the data available through the MURDOCK and PALS studies."
Duke Kannapolis is committed to fulfilling requests as expeditiously as possible with a goal of having all requests received in 2022.
"[The MURDOCK] team's careful management of sample provenance and control of the chain of custody meet the highest standards in the profession," said James Bain, PhD, faculty co-director for the Metabolomics Laboratory at the Duke Molecular Physiology Institute. "Analysis of certain metabolites clearly shows that MURDOCK plasmas were processed promptly and with care."
Learn more about the initiative, submit an interest form, or directly contact the lead for the initiative, Douglas Wixted.
About the MURDOCK Study
The MURDOCK Study is Duke's landmark longitudinal translational research study based in Kannapolis, North Carolina, working to reclassify health and disease through advanced scientific technologies, expertise from Duke researchers, and close collaboration with a strong network of community partners. One of the largest and most unique studies of its kind, the MURDOCK Study aims to identify linkages across major diseases and disorders to help defeat some of today's leading causes of illness and death. MURDOCK is an acronym that stands for the Measurement to Understand Reclassification of Disease Of Cabarrus and Kannapolis. Learn more.
About Duke CTSI
The Duke Clinical and Translational Science Institute (CTSI) catalyzes and accelerates the innovation and translation of scientific discoveries into health benefits for patients and communities through collaborative research. Our NIH Clinical and Translational Science Award (CTSA) funding enables us to offer programs, project management and navigator services, and data sharing and informatics resources that provide essential support to move ideas from the laboratory through early-phase clinical trials and facilitate education for current and future translational medicine researchers. For more information, visit ctsi.duke.edu.