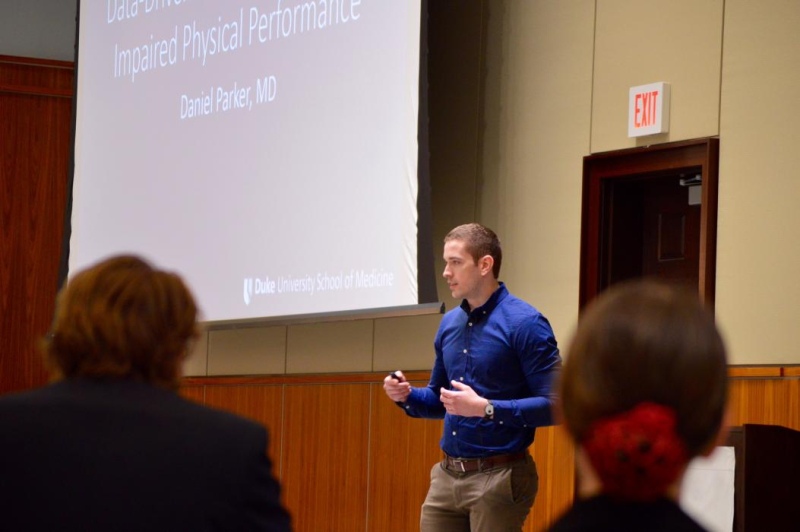 So, you think aging starts at 65? Think again. Physical decline often begins when people enter their 50s, according to data from the Physical Performance Across the Lifespan Study (PALS), a collaboration between the MURDOCK Study and Duke Claude D. Pepper Older Americans Independence Center.
Dr. Daniel Parker, a geriatrician and a post-doctoral research fellow in the Duke Aging Center, and Dr. Corey Simon, a research scholar with the Duke Pepper Center and member of the Duke Clinical Research Institute Musculoskeletal Team, presented data from PALS at the N.C. Research Campus Catalyst Symposium on March 29 in Kannapolis. One thousand MURDOCK Study participants are co-enrolled in PALS, one of the only studies to measure physical function across the full adult lifespan. A research team led by Dr. Miriam Morey used simple tasks like rising from a chair to measure strength, standing on one leg to measure balance, and walking for six minutes to measure heart function. They also collected blood and looked at medical history.
They found that people in their 50s began to show deficits in strength and balance. Data were similar for gait speed and the six-minute walk test. Notably, many participants maintained their same level of performance when they returned two years later for a follow-up visit.
Next, researchers will look at underlying biological mechanisms and hope to identify factors that are associated with maintenance or decline.
"PALS will help us understand factors associated with healthy aging and not-so-healthy aging," Simon said. "How much is genetic, how much is lifestyle, how much is an inevitable fact of aging? These are things we hope to unravel."
"PALS will also help us understand why some people retain good physical performance as they age," Parker said. "Once we understand that, we can develop interventions to help everyone."
Dr. L. Kristin Newby is principal investigator for the MURDOCK Study Community Registry and Biorepository, which is managed by Duke Kannapolis.
People interested in collaborating with the MURDOCK Study should contact Julie Eckstrand (336-260-9802) for more information.