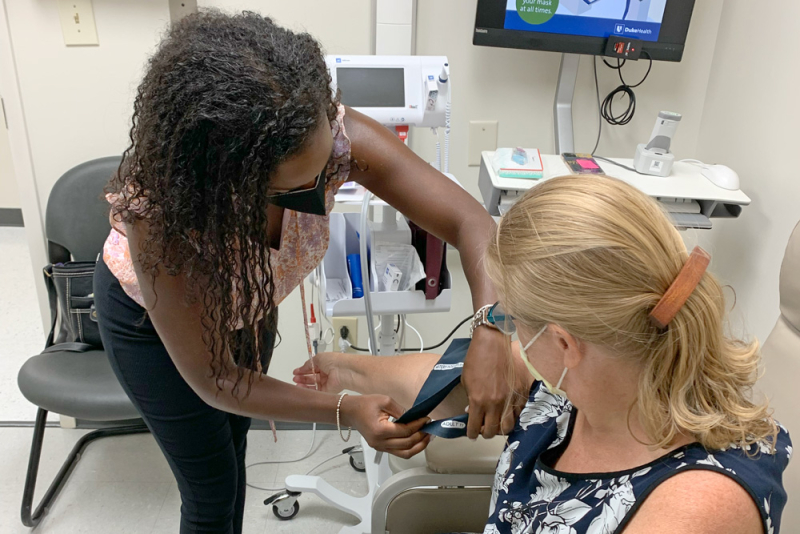 Durham Tech students Michaella Collins and Carmine Johnson joined the inaugural cohort of the Clinical Research Equity Scholars Program in February. This two-semester program was developed in partnership with Duke CTSI. With the start of the Fall 2022 semester approaching, these scholars have had time to learn, grow, and build valuable connections in clinical research.
Collins said the program has helped her build skills and her future in clinical research. She also credited mentors such as Opeyemi Olabisi, MD, with providing important career preparation and a well-rounded internship experience.
"The mentors have given us lots of extra opportunities to enhance what we can use going forward in our careers," Collins said. "Being a scholar at Duke has shown me just how committed everyone is to research and how willing [they are] to think outside the box, which is really awesome."
Both Collins and Johnson have participated in the Engagement, Recruitment, and Retention Certificate Program, which has given them a chance to understand equity in clinical research.
"It has been very informative," Johnson said. "I have learned a lot of things I hadn't thought about before regarding minority enrollment in clinical trials."

Stephanie Freel, director of Clinical Research Education and Outreach, said Duke has had a long relationship with Durham Tech and hopes the program continues to help students.
"We've partnered with Durham Tech for clinical research training for a very long time," Freel said. "We have had student internships in the past, but we wanted to really deepen those relationships and move the needle on inclusivity in research work from a training perspective. And that's why the Equity Scholars program was created."
Along with other clinical studies, the students are also gaining experience taking training modules, attending meetings, reading articles, and preparing PowerPoint presentations, as well as mailing and calling study participants.
Collins said they are working on a project for a recruitment strategy plan and keeping equity in mind while being interactive with patients and interacting with the study team.
"The study teams are very interested in letting us be hands-on," she said.
Johnson said working at Duke has opened her mind to getting more people of color to participate in research trials.
"I knew there were reasons why minorities, specifically Black people, were more hesitant to participate in clinical trials," she said. "But there were some factors I didn't realize, such as simply not being asked to join studies. Statistically speaking, just ask. I've learned that this is an effective way to increase diversity in clinical research."
Johnson also said she admired how Duke really cares about all people of all backgrounds in clinical research.
"Overall, clinical research studies struggle to recruit and retain participants, and not just among minority populations," she said. "And Duke actually cares. They care about representation, and they care about trying to recruit people of all backgrounds. And it makes me respect the school even more."
Both students said the skills they have developed in community engagement will advance their future career opportunities in clinical research.
When looking for students to be a part of the program, Freel said, the search was based on those who enjoy community-engaged research. This type of research is conducted collaboratively with community partners who work directly with community members and organizations to increase awareness of clinical research and opportunities for participation.
"Community-engaged research is more inclusive and spans beyond the border of Duke Health clinics, for instance," Freel said. "As part of the workforce development team here at Duke, we were able to tailor a great training experience for research participation and provide these scholars with a hands-on experience."
Freel said she is delighted about the future of the program.
"The two students who are part of the program now are phenomenal, and I love working with them," she said. "As the program progresses, I am just excited to continue working with students to really develop these partnerships in research."