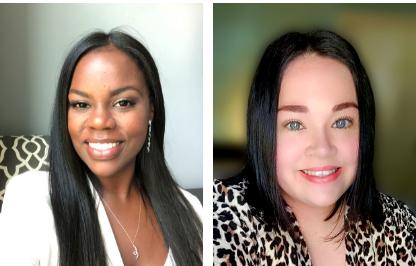 Two Durham Technical Community College students have been selected for the inaugural cohort of the Clinical Research Equity Scholars Program. The students, Michaella Collins and Carmine Johnson, will participate in the two-semester program, which launched on February 1.
The program is designed to provide students with an opportunity to contribute to the development of innovative strategies for improving equitable practices and diversity in clinical research. Scholars will receive a stipend and be matched with a Duke mentor on a clinical research project at Duke.
Collins and Johnson learned about the program when it was announced by Dr. Sharleen Traynor, Fieldwork Coordinator and Instructor of the Clinical Trials Research Associate program at Durham Tech. Dr. Traynor works with Dr. Nadine J. Barrett, Director of the Duke CTSI's Center for Equity in Research, to lead this scholar program.
"Through the Clinical Research Equity Scholars program, Durham Tech students will directly contribute to efforts promoting equity in clinical research and engage with key stakeholders in the community," Traynor said in the Durham Tech announcement. "This experience will empower them to become equity champions as they enter the research workforce."
For Johnson, the program's vision to elevate, advance, and accelerate equitable and anti-racist research was particularly attractive. As a woman of color, she has longed to see more women and people from underrepresented racial and ethnic groups in high-level clinical research positions.
"As a black woman, I am personally affected by the racism and bias in the research community which results in inequities in both the healthcare outcomes as well as clinical research representation amongst black people," she said. "I would be remiss to pass up the opportunity to participate in this especially important work."
Similarly, Collins said she hopes the program gives her the opportunity to learn from others in the clinical research community and further hone her research skills. The idea of one day being part of a team that can make a positive difference in eradicating research inequity also excites her.
"I hope to learn how to address the inequity issue in research and be able to apply it and pass along what I learn with my peers in future work settings," Collins said. "I hope to learn more about community outreach, and how that can have an effect on research in the future."
Learn more about the Clinical Research Equity Scholars Program.