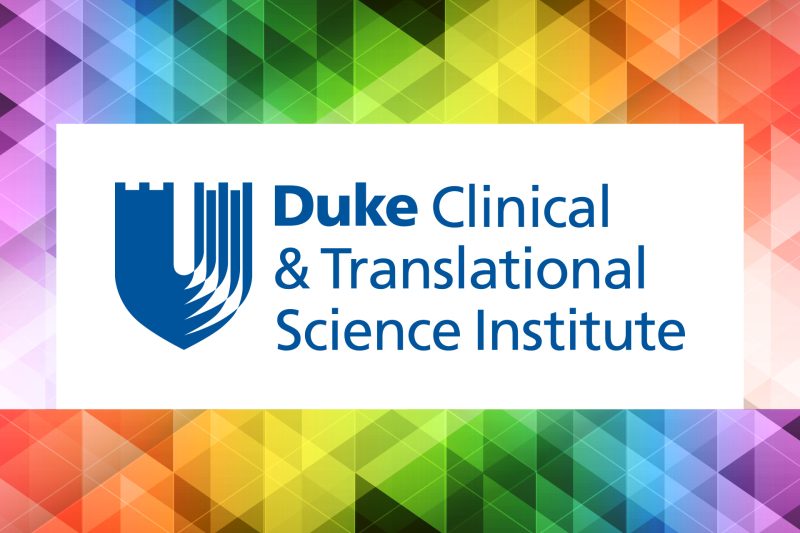 Duke CTSI is committed to accelerating scientific discoveries to help build healthier communities. One of the ways the CTSI works to achieve this mission is by focusing on improving health equity locally. These TL1 and KL2 scholars have taken advantage of the opportunities CTSI has given them, focusing on health research disparities and what can be done to alleviate them.
Sabrena Myers joined the Duke CTSA TL1 pre-doctoral program in 2020. Sabrena's research focuses on healthcare providers' adherence to the United States Preventive Services Task Force (USPSTF) guidelines for using low-dose aspirin for preeclampsia patients. She also looks at predictors of adherence in patients who have not given birth.
One of the reasons Sabrena became interested in researching this topic was the disproportionate way preterm birth results in prenatal morbidity and mortality in non-Hispanic Black (NHB) women. In many of these births, preeclampsia plays a major role.
"NHB women consistently have preterm birth rates that are 49 percent higher compared to other racial and ethnic groups," she said. "Low-dose aspirin is recommended for preeclampsia prevention. We want to identify barriers to optimal utilization, particularly among NHB women."
Sabrena has been working closely with Dr. Geeta Swamy on this research, as well as Dr. Sarahn Wheeler (read more below about Dr. Wheeler's work in health disparities research). She said this mentored research approach as part of the TL1 program has been a great tool for her.
"Dr. Swamy and Dr. Wheeler's strong commitment to education, training, and career development make them great mentors to me as a future clinical researcher with an interest in health disparity," she said. "Dr. Wheeler, in particular, shares many of the same interests regarding the intersection between disparities and maternal health. And Dr. Swamy allows me to formally present my research updates and garner insightful feedback."
Hadley Reid has spent her time at Duke researching how patients with type II diabetes interact with healthcare providers and how these interactions are associated with health outcomes. Hadley's project is based out of the Duke Center for Research to Advance Healthcare Equity (REACH Equity), which focuses on developing and testing interventions to improve the quality of patient care.
Previous research has shown that non-Hispanic Black patients are both more likely to be diagnosed with type II diabetes and to suffer worse downstream outcomes from the disease. As part of her project, Hadley particularly focuses on how therapeutic interactions differ between non-Hispanic White and non-Hispanic Black patients.
"The provider and system factors that affect patients' ability to reach an optimal state of health are less studied and, in my opinion, just as important for us to achieve equitable health outcomes," Hadley said.
Hadley has been working closely with fellow medical students Olivia Lin and Rebecca Fabbro as well as Dr. Kimberly Johnson, Dr. Laura Svetkey, and Dr. Bryan Batch on this project. With Dr. Batch, in particular, Hadley has been developing several more equity-focused research projects.
"It is powerful to take the onus of improving health outcomes off of patients and look internally at what we as clinicians can improve, sometimes in areas where we might not have even known we were lacking," she said.
In partnership with Diaper Bank of North Carolina, KL2 Scholar Dr. Sarahn Wheeler has been researching barriers to preterm birth preventive care in Black women. The ultimate goal of this research project is to help reduce the burden of preterm birth for Black women.
Diaper Bank of North Carolina's mission is to ensure that every North Carolina family has access to basic necessities to support their dignity, health, and quality of life. This aligns well with Dr. Wheeler's research, as many pregnant people who struggle with adherence to preterm birth prevention face challenges securing these basic needs.
"Babies born preterm are at risk for long-term health problems, and many die due to complications of prematurity," Dr. Wheeler said. "In the U.S., 10 percent of babies are born preterm each year. Among Black birthing people, that number is nearly double."
Through her project, Dr. Wheeler is also working to develop interventions that incorporate community doula support and group prenatal social support. Her partnership with Diaper Bank has helped introduce her to other community organizations dedicated to the cause.
"Working with the Diaper Bank and the other community organizations has given me a broader understanding of the Durham community and the incredibly resilient spirit of Durhamites," Dr. Wheeler said. "It's often easy to focus on ways that communities and families are "disadvantaged" without understanding the strength and resilience within the community.  The Diaper Bank and the entire Community Advisory Board, have a deep understanding and respect for the Durham community and its strengths."