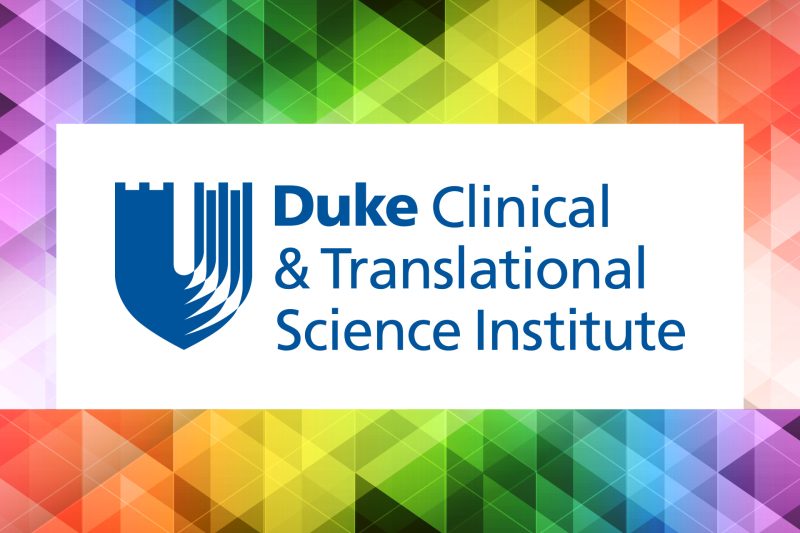 The Duke CTSA TL1 program has welcomed five new scholars into its Physician Research Fellowship and Pre-Doctoral Scholarship programs. The five new participants are: Jordan Ezekian, MD; Ashley Nelson, PhD; Liz Kobe; Hadley Reid; and Kai Seely.
CTSA TL1 Physician Research Fellowship
Jordan Ezekian, MD
As a participant in the CTSA TL1 Physician Research Fellowship, Jordan Ezekian, MD MPH, will work in the Landstrom Laboratory in Pediatric Cardiology to research genetic causes of sudden cardiac death in infants and children. Dr. Ezekian's research and advocacy efforts throughout her time at Duke have primarily focused on heart failure and sudden cardiac death, topics about which she feels passionately.
"During cardiology fellowship, I have taken care of a number of seemingly healthy children who have been devastated by sudden cardiac arrest," Jordan said. "These experiences, while alarming, have inspired me to make the issue of sudden cardiac death prevention a focus of my career."
Jordan's research background up until this point has been largely concentrated on public health, with a focus on clinical and epidemiological research. As a TL1 scholar, she hopes to further develop her knowledge base and skill set by conducting basic science research.
"I am looking forward to learning how to conduct cellular level electrophysiology studies," Jordan said. "The CTSA TL1 fellowship will allow me to expand my knowledge of cardiac electrophysiology and basic science research techniques to prepare me for a career as a physician-scientist."
Ashley Nelson, PhD
Ashley Nelson's research will focus on advancing our understanding on how HIV antibody neutralization breadth develops in the setting of the early life immune system. What drew Ashley to this research was the prevalence that HIV still has today - around 180,000 pediatric HIV infections occur annually, and the primary mode of transmission for these infections is between a mother and her child.
"I really want to help move the field forward by understanding infant HIV immunity and how to harness the unique maturing immune system of infants to elicit protective responses," Ashley said. "We also need to better understand the maternal side of HIV immunity to help optimize a potential immunization regimen."
Ashley will be working with mentors Sallie Permar and Genevieve Fouda on this research. It was her mentors who recommended she apply to the TL1 program, and she is looking forward to learning more about the pipeline involved in the clinical trial process.
"I'm excited to take what I learn from this program and apply it to my research projects," Ashley said. "The TL1 program will help me bridge aspects of basic science and clinical research."
CTSA TL1 Predoctoral Scholarship
Liz Kobe
Liz Kobe would describe herself as an aspiring clinician-researcher who has a love for evidence-based medicine. Her main research interest is to better understand factors that influence the trajectory of chronic diseases, particularly with response to targeted interventions.
For her research project, she will be studying how factors such as baseline BMI class and level of diabetes control affect diabetic patients' response to specific interventions. She believes that being better able to understand disease characteristics will help inform her patient care.
"When I first started medical school, my brother instructed me to remember one simple dogma: the patient is why I am here," Liz said. "As I have begun to navigate the world of medicine, I have carried this with me and have always tried to maintain a deep focus on the patient. To me, every patient represents a unique, lifetime of stories that have made a profound impact on their health."
As a TL1 scholar, Liz is looking forward to learning from her colleagues and mentoring team, especially her primary mentor Matt Crowley.
"Dr. Crowley is an exceptionally talented physician, researcher, and mentor, who pushes me to set ambitious goals for myself and matches my enthusiasm with each goal," she said. "Under his tutelage, and in conjunction with the CRTP coursework, I will hope to make great strides as a future independent investigator."
Hadley Reid
Hadley Reid will work with the Duke REACH Equity Center on her research project as a TL1 scholar. Her research will focus on differences in patient-provider communication and health outcomes between non-Hispanic white and African American patients with type 2 diabetes.
"I've always been interested in health disparities," Hadley said. "All specialties have work to do to improve how healthcare is delivered and accessed by different populations. I'm interested in seeing how care can be optimized in the hospital setting."
Hadley heard about the TL1 program from former participants. She is excited to be able to develop skills around statistics and analytics, as well as dedicating more time to gain comfort as a clinical researcher while working on a meaningful project.
"I love the flexibility the TL1 program provides," Hadley said. "Dr. [David] Edelman and the team are willing to work with you to make the experience the best it can be."
Kai Seely
As part of his research project for the TL1 program, Kai Seely is working in the Department of Ophthalmology with Cynthia A. Toth, MD. Kai's research will focus on retinol diseases and using novel imaging to improve visual acuity for infants.
"I was interested in looking at this because it has a huge impact on a patient's quality of life," he said. "The goal for this research is that we can better predict patient outcomes and tailor new therapies."
Kai knew he wanted to spend his third year of medical school focused on clinical research, and he felt the TL1 program was a good fit to help him reach his goals. He is looking forward to the hands-on work he'll be able to do in the program as a way to help jumpstart his career.
"I'm looking for a career in clinical and translational science," Kai said. "This is a fantastic program that offers exposure to people and mentors who have chosen that career path."