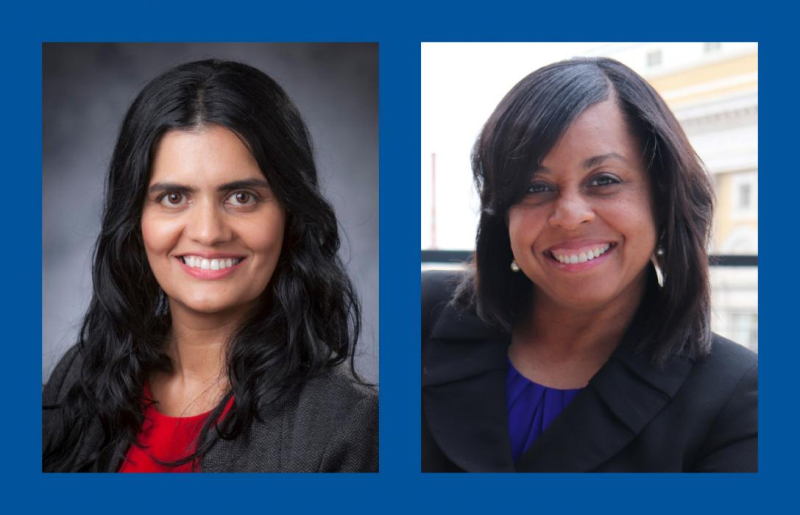 The Duke Clinical and Translational Science Institute (CTSI) is pleased to announce the creation of the new Duke-North Carolina Central University (NCCU) Bridge Office under the leadership of Faculty Director Gayathri Devi, MS, PhD and Director of Operations Lisa Davis, MSPH, PhD. Each brings diverse and complementary expertise and have established longstanding ties with both institutions.
Devi is an Associate Professor of Surgery and Pathology at Duke University, Program Director of the Duke Inflammatory Breast Cancer Consortium, and Associate Director for Research Education in Department of Surgery. Davis is Director of Special Projects at CTSI, Secretariat for the Lancet Commission on Hearing Loss, and lead for the Duke CTSI Training and Wellness Academies. 
The Duke-NCCU Bridge Office will work closely with Duke and NCCU leadership to create opportunities for multidisciplinary collaborations and ensure that faculty, investigators, and trainees at all career levels have access to core resources and services to do innovative research. This partnership is expected to strengthen ties between the two academic institutions in a strategic effort to improve health outcomes, create pipeline programs to diversify the future clinical research sciences workforce, build new research teams, and expand infrastructure to support underrepresented minority researchers.
"The Bridge Office will initiate, coordinate, and nurture numerous research endeavors, including research funding opportunities, training and pipeline activities, and community engagement efforts, between Duke and NC Central University," said CTSI Director Ebony Boulware, MD, MPH. "This is a significant and critically important effort for CTSI and Duke. I am so pleased Dr. Devi has agreed to lead this essential work."
"We are delighted that there has been an increasing number of requests from research scientists and staff in both universities to identify potential collaborators and synergistic programs," said Dr. Faye Calhoun, Special Assistant to the Chancellor at North Carolina Central University. "We have found that the potential for bidirectional leveraging of existing and developing projects and resources is great. The bridge office will facilitate and support the building and maintenance of these alliances."
"Addressing health disparities is very important for us," said Deepak Kumar, PhD, Director of the Julius L. Chambers Biomedical Biotechnology Research Institute. "The new Duke-NCCU Bridge Office will further strengthen this important partnership to address health disparities and achieve health equity in North Carolina and the region. Through this office, we will be able to facilitate new collaborations between NCCU and Duke faculty and leverage existing NIH-funded programs such as the Clinical and Translational Science Award (CTSA) at Duke and Research Centers at Minority Institutions (RCMI) at NCCU for broader impact on health disparities. The office will promote equity and inclusion in research, community engagement, and develop innovative health care implementation programs for all North Carolinians."
"I am excited to join the Duke CTSI team and am truly honored and humbled to have been selected to lead this initiative," said Devi. "Duke and NCCU have a long history of collaboration and the goal of this Bridge Office is to build on these existing partnerships by channeling the expertise at both institutions to create a model of academic-community engagement that is sustainable and can adapt to meet the needs of the communities we serve."
"It is so wonderful to see how much the partnership has grown since the inaugural partnership ceremony in 2017," said Davis. "The new Duke-NCCU Bridge Office further exemplifies the long-term commitment that we have as institutional partners, and our mutual alignment on addressing diversity, equity, and inclusion at multiple levels. I'm delighted to work with partners at both institutions to implement our long-term, shared vision."
Key programmatic areas of focus within the Bridge Office will include internship and training opportunities, major grant funding opportunities, collaboration on diversity supplements, and fostering connections and learning that enables investigators and students to engage more effectively and build capacity.
---
About Duke University
Duke University enrolls over 15,000 undergraduate, graduate and professional students and is regarded as one of America's leading research universities. Its 10 graduate and professional schools are among the leaders in their fields, and the university's health system combines clinical care, research and education. With more than 42,000 employees, Duke is the second-largest private employer in North Carolina. Duke also is active internationally through Duke Kunshan University in China, the Duke-NUS Graduate Medical School in Singapore and numerous research and education programs across the globe.
---
About Duke Clinical and Translational Science Institute
The Duke Clinical and Translational Science Institute provides resources and programs to help investigators from across Duke enhance the impact of their scientific discoveries, bringing innovations in the health sciences to life. Comprising more than twenty expert groups, CTSI programs include pilot project funding programs, training and education programs, community engagement resources, and research platforms throughout Durham and North Carolina. 
---
About North Carolina Central University
North Carolina Central University (NCCU) prepares students to succeed in the global marketplace. Consistently ranked as a top Historically Black College or University, NCCU's flagship programs in the sciences, education, law, business, nursing and the arts prepare students for professions ranging from clinical research to information science. Founded in 1910, NCCU remains committed to diversity in and access to higher education. With a mission to investigate health disparities, the university's two state-of-the-art research institutes give students real-world experience working alongside faculty researchers and pharmaceutical and biotechnology industry professionals. The university's Strategic Plan 2019-2024, Charting a New Landscape for Student-Center Success, focuses on four areas: student access and success; innovation, research and entrepreneurship; collaboration and partnerships; and institutional sustainability. Visit www.nccu.edu.