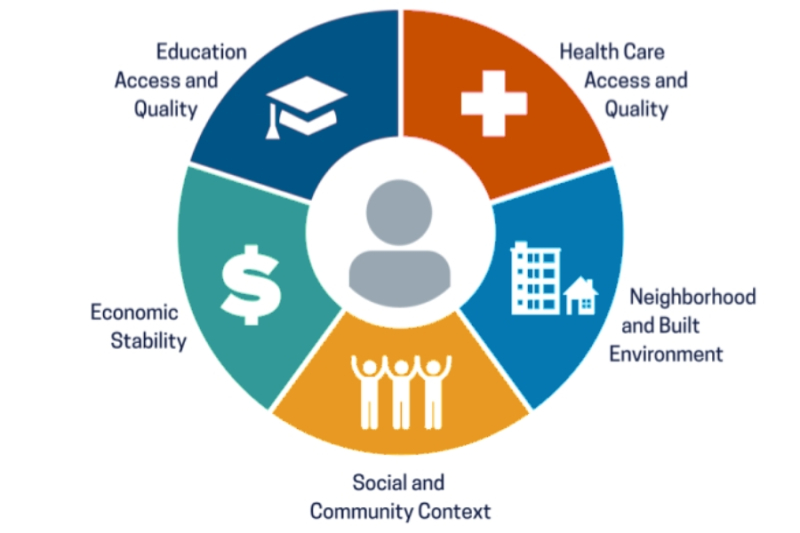 When it comes to a patient's health, there are more factors than just clinical characteristics that can have an impact. The conditions of the environments where people are born, live, learn, work, play, and age affect their quality of life and health. These factors, also known as social drivers of health (SDOH), are starting to be more recognized by doctors and clinical researchers, however it can be challenging to know where to get SDOH data, which variables to use, and how to link SDOH data with health data.
The Social, Environmental, and Equity Drivers (SEED) of Health Atlas is a publicly available platform and tool for researchers and community members to learn more about SDOH in Durham and surrounding counties, access local data, and promote research in health disparities and equity. Supported by Duke CTSI, the goal of the SEED Atlas is to enable users to learn more about upstream factors that drive health in Durham.
"Individuals often experience barriers to optimal health through multiple interacting social needs, and understanding the impact of these requires linking different types of data to get a holistic picture of the needs a person is experiencing," said Nrupen Bhavsar, PhD, associate professor of surgery at the Duke University School of Medicine, director of the CTSI Social Informatics Program, and member of the SEED Atlas leadership team. "By understanding these upstream factors, we might be able to intervene on the root causes of health disparities and inequities."
The SEED Atlas curates SDOH data outside of what is captured in electronic health records. Data featured in the tool is collected by Duke researchers and sourced from local, state, and national records, including Durham Open Data Portal, the US Census Bureau, and the Environmental Protection Agency. The website also features data on the prevalence of health conditions, summarized at the neighborhood level and sourced from the Duke University Health System and Lincoln Community Health Center.
Along with individual benefits, better understanding of and access to SDOH data can positively impact clinical research. Clinical researchers can use this data to inform the type of research conducted and explore interventions that are most suitable to patients.
"There are numerous examples of how SDOH can impact health," Bhavsar said. "We know that exposure to elevated levels of air pollution can impair blood vessel function and increase calcification in arteries. Increased neighborhood stressors like violence can increase blood pressure. Living in food swamps – areas with businesses that sell high calorie fast food – increases risk for obesity and stroke."
While building the atlas, Bhavsar and other members of the SEED leadership team consulted with faculty and staff from the School of Medicine; Nicholas Institute for Energy, Environment & Sustainability; Duke University School of Law; Sanford School of Public Policy; and Trinity College of Arts & Sciences. The team also worked closely with leaders from community-based organizations to better understand how they might use the tool.
"Researchers want to have easy access to curated data and the ability to link SDOH to other data sources, such as electronic health records," Bhavsar said. "Organizations and community members want to be able to access and visualize the data, as well as use it for advocacy, communicate with policy makers, and understand the distribution of factors within their own neighborhoods."
Since its launch, the SEED Atlas has been used in a number of research studies and quality-improvement projects at Duke. Clinical researchers have used SEED to obtain SDOH data and connect it to health data, and leaders with the Collaborative to Advance Clinical Health Equity have used the atlas to support work aimed at identifying and eliminating racial disparities in healthcare.
"Colleagues at Duke have stated that SEED can accelerate their research by helping transplant centers to understand how community level SDOH influence access to the waitlist and health maintenance for patients on the organ transplant waitlist," Bhavsar said. "Pediatricians can identify neighborhoods with limited food access to think about community drivers of obesity and where community-academic partnerships can be most impactful. Bariatric surgeons can use that same information to think about success after obesity surgery outcomes. Other researchers may look more broadly at the combination of SDOH factors that drive chronic disease progression."  
The SEED team is continuing to work with researchers and other stakeholders to elicit feedback and continue to develop the atlas. In the coming weeks and months, the team plans to increase the number of years of SDOH data, as well as add data from all counties in North Carolina and additional years. In terms of functionality, the goal is to add an API which would allow research groups within Duke and collaborators outside of Duke to pull SDOH data directly from the website to their own platforms. There is interest in adding the ability of people to create more complex visualizations on the website so users can visualize two SDOH variables or one SDOH and one health variable at a time.
The SEED Atlas is a part of the broader Social Informatics Program within the CTSI, which is led by Bhavsar. Researchers interested in linking SDOH data to EHR or other health data, receiving consultations on their ongoing work, or seeking collaborations can contact Bhavsar.