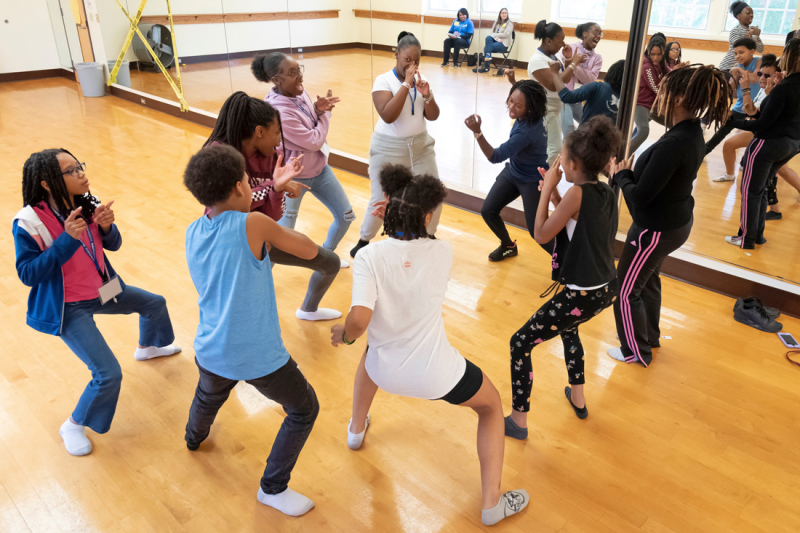 A community outreach event hosted by the Duke Research Equity and Diversity Initiative (READI) brought together middle and high schoolers with speakers and resources from across Durham and Duke to learn about clinical research and careers in STEAM — science, technology, engineering, art, and math.
The half-day event organized by READI's Workforce Development and Community Partnership & Engagement working groups featured youth programming from the Community Family Life and Recreation Center at Lyon Park, Duke Clinical and Translational Science Institute (CTSI), Durham Parks & Recreation, and other community organizations and businesses. Students ages 11 through 14 learned about a range of STEAM topics, from the evolution and global impact of hip hop to the equitable use of artificial intelligence in health care, an introduction to clinical trials using quilting techniques, and how to build video games.
The students also enjoyed a Passport to STEAM activity. This speed networking opportunity gave participants and their parents a chance to talk with Duke and other STEAM experts about what they do and their career paths.
While students attended breakout sessions, READI Community Advisory Council (CAC) member Dr. Wanda Boone, director of Together for Resilient Youth (TRY), spoke with parents about Adverse Childhood Experiences (ACEs) and Resilience and how it affects communities, families, and individuals. TRY also provided resources that support families.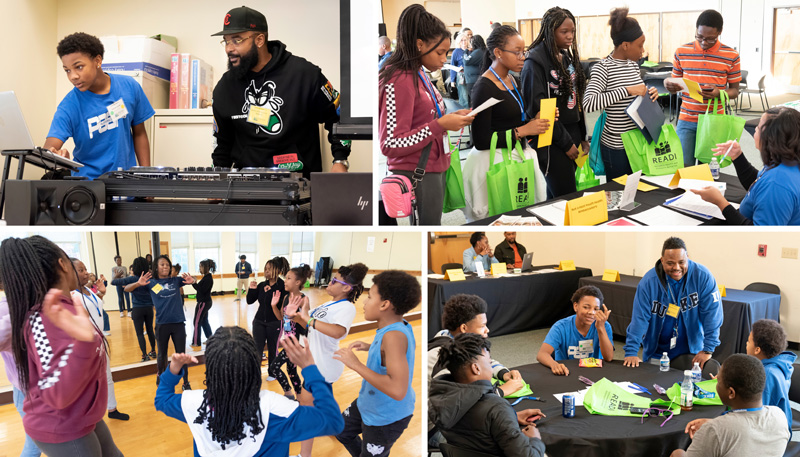 At the end of the event, students discussed what they had learned throughout the day and shared what had surprised them about STEAM and potential careers. Each student left with a certificate of completion, a new friend or two, and some big ideas about what their future might hold
The event initially took shape based on recommendations from the READI CAC to engage youth in clinical research and STEAM opportunities. READI staff members Leatrice Martin and Kenisha Bethea reached out to their primary collaborator, Dosali Reed-Bandele, executive director of the West End Community Foundation Inc., and together with READI Workforce Development co-directors Amanda McMillan and Steven Grambow and Lisa Davis (Duke-NCCU Bridge Office), engaged other community partners to brainstorm and develop an event that would pique the interest of younger students to explore careers in research.
"It's important to expose young students to opportunities in clinical research and STEAM," said Grambow. "Disparities and barriers make it more difficult for community members of color to pursue careers as researchers or even participate in research that could improve health outcomes in their communities."
Sessions and facilitators included:
"Celebrating 50 Years of Hip Hop and the Global Impact! and Artificial Intelligence (AI) in healthcare: Making Technology Fair for Everyone!" by The D.O.C. (aka Rohan da Great) with 92.1 FM and Michael P. Cary, PhD, MSN, with the Duke University School of Nursing

"Express and Release: Movement around Emotion — Lenae Release Method" by Gabrielle Rivero with Express & Release Therapeutic Dance

"Vision Quilting: A Fabric for My Future and Introduction to Clinical Research/Trials" by Stephanie Freel, PhD, with the Duke Office of Clinical Research; Muhammad Zafar, MD, with Duke Children's Health; and Gloria Pinero with the Duke University School of Medicine

"Learn to Build Video Games – Getting to know Unreal Engine: The Software Used to Make Fortnite" by Anthony Holley, with Wellness Through Inclusive Technology & Data; Steven Isaacs, Education Program Manager at Epic Games
The event could not have happened without the support of many volunteers from the READI project, the Duke Office of Clinical Research, Duke CTSI, and the Duke-NCCU Bridge Office. A huge thank you to the families who brought the student participants to the event and then stayed to learn more about pathway programs that support student learning.
"The hope was with this event, we would whet some appetites for subsequent programs of this nature over the coming year," McMillan said. "According to the students and their parents, we succeeded!"
Martin agreed. "We are so grateful to our community and industry partners, and we look forward to the next event."
---
Event photos courtesy of Les Todd and James Burrell.