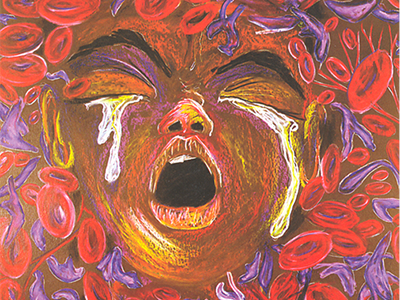 Duke CTSI announces the publication of a new case study, "Biopsychosocial Determinants of Pain in Sickle Cell Disease," a research study led by Dr. Mitchell Knisely of the Duke University School of Nursing.
Many people with sickle cell disease frequently experience severe pain, and the contributing factors to that symptom have not been fully understood. This research project identified a biomarker that is significantly associated with pain in people with sickle cell disease, offering a new exploratory direction for research.
This case study discusses not only the methods and results of the research, but explores the challenges the researchers faced and the strategies they employed to overcome those challenges. It also clearly demonstrates the benefits to patients and society of this translational science project.
Art: "Ten Redefined" by Hertz Nazaire (detail). See page 8 of the case study for more information.
---
This is the third in a series of Duke CTSI case studies using the Translational Science Benefits Model (TSBM) framework, which reveals the path of a research project from idea to impact.
The Translational Science Benefits Model is a framework public health and clinical scientists can use to demonstrate the impact of their work in the real world.