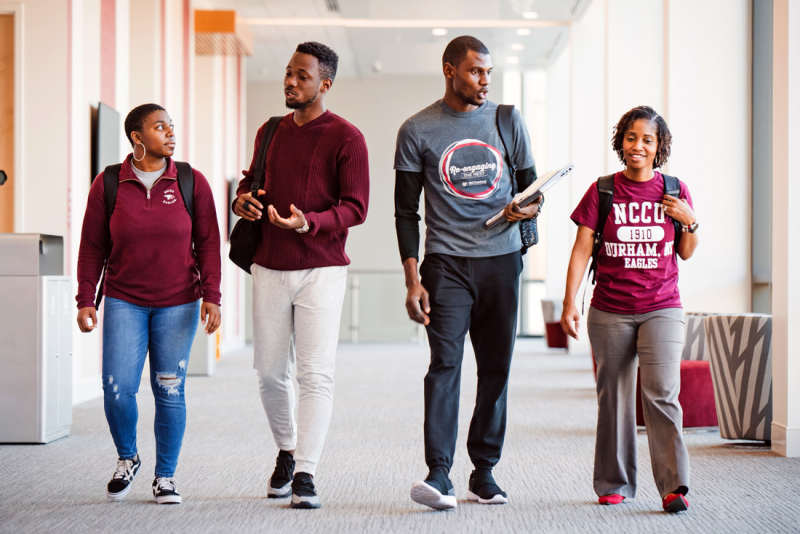 As part of the ongoing partnership with Duke University and North Carolina Central University, Duke will host Neurosciences Career Exploration Day for NCCU students, a new event co-sponsored by the Duke-NCCU Bridge Office.
NCCU students and recent graduates are invited to learn about careers involving the nervous system during the free, daylong event on April 29. Faculty and staff from the Duke Neurology, Neurobiology, and Neurosurgery departments will answer questions, review CVs, and help with interview skills.
"We know that one of the best predictors of who will go on to have a career in neurology or neuroscience is early exposure, and we want to make sure our neighbors at NCCU have the opportunity to learn about these careers," said Andrew Spector, MD, an associate professor in the Duke Department of Neurology who helped to organize the event and secure funding. "Our goal with this event is to pique students' interest in careers in brain science while also helping them take the first steps in that direction."
NCCU students and recent graduates will also have an opportunity to connect with Duke mentors. Careers represented at the event will include physician, physician assistant, researcher, pharmacist, neurodiagnostic technician, and more.
"We are thrilled to co-sponsor and help support this unique event," said Lisa Davis, PhD, MSPH, director of operations for the Duke-NCCU Bridge Office. "This is going to be a fantastic opportunity for NCCU students and alumni, and yet another example of the deepening partnership and collaboration with Duke and NCCU."
The event will be held from 8 a.m. to 3:30 p.m. on Saturday, April 29 at the JB Duke Hotel, located at 230 Science Drive in Durham. Registration is required for this free event. Breakfast and lunch are included.
People across the Duke departments who helped to organize the event include Katherine McDaniel, PhD, in Neurosurgery; Anita Disney, PhD, in Neurobiology; and Ashley Moore in Neurology.
Additional co-sponsors include Harmony Biosciences and the Alliance to Cure Cavernous Malformation.
Photo credit: North Carolina Central University