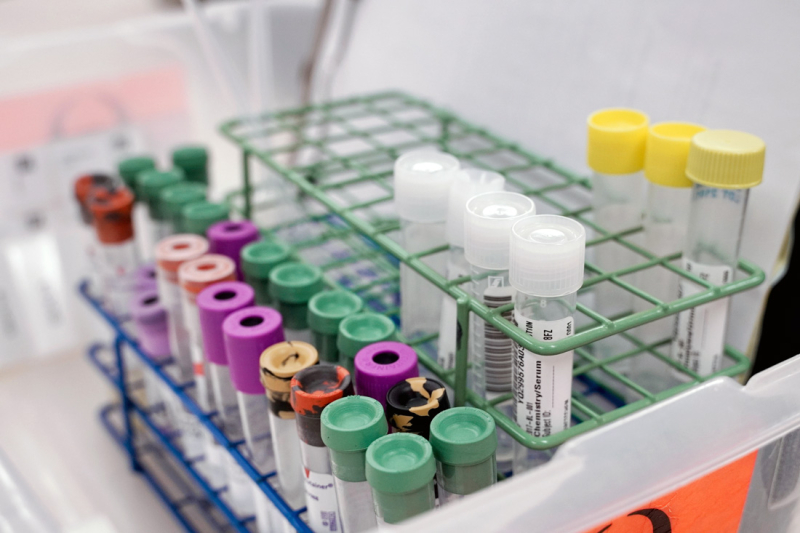 KANNAPOLIS, N.C.—With just a few clicks, a new data exploration tool developed by the Duke Clinical and Translational Science Institute (CTSI) research site in Kannapolis enables Duke investigators to quickly identify populations of interest, accelerating their research.
The data exploration tool allows investigators to easily explore data in the MURDOCK Study Community Registry and Biorepository, a groundbreaking 12,526-participant community-based longitudinal cohort based in Kannapolis and encompassing Cabarrus County.
The tool supports a new initiative to transform the MURDOCK Biorepository into rich datasets by facilitating access to samples for Duke researchers and laboratories.
---
---
The Duke Kannapolis team has published MURDOCK Study data, stripped of identifiers, in an interactive dashboard on the Duke Tableau Server. The dashboard functions as the self-service data exploration tool. For security reasons, the dashboard may be accessed only with Duke credentials (via single sign-on) while on the Duke network or connected by VPN.
"This new tool is intended to decrease the barriers to entry in collaborating with Duke Kannapolis," said Julie Eckstrand, RPh, director of operations. "We created it for investigators who are interested in a highly engaged, accessible, diverse, ready-made cohort of participants for prospective research work, and for those in need of biospecimens and on-average 10 years of longitudinal data."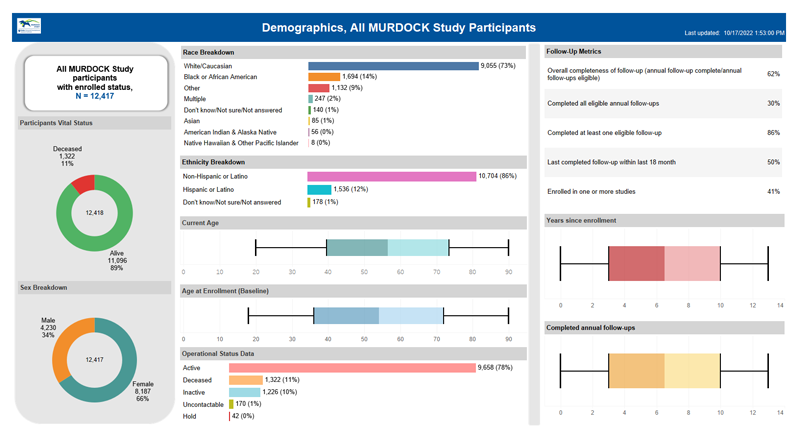 Explore the MURDOCK Study
Because the tool is self-service, investigators can independently explore the MURDOCK Study at their convenience. Exploring cohorts of interest may inform the feasibility of a research aim, refine an aim, or develop a hypothesis. With a few clicks, an investigator can determine the extent of available follow-up data, EHR data, and exact types and quantities of biospecimens collected at enrollment for a population or subpopulation of interest.
"Investigators at any point in their career — early, mid, or late — are invited to leverage the MURDOCK Registry resource and our Duke Kannapolis team," Eckstrand said. "This is a fast, easy way for collaborators to learn about the MURDOCK Study participant population and collected data."
---
Quickly and easily explore the groundbreaking MURDOCK Study by using a new interactive dashboard. Independently determine the extent of available data and exact types and quantities of biospecimens for participant cohorts of interest. With just a few clicks, determine the feasibility of a research aim, refine an aim, or develop a hypothesis. The Duke Kannapolis team can support more complicated queries incorporating additional data domains and complex logic.
---
Investigators who need a deeper level of granularity or a more complicated query — such as using sets of medications, geospatial mapping, or compound logic — can complete an interest form. The Duke Kannapolis team will respond within two business days. Investigators also can contact Eckstrand or Douglas Wixted, MMCi, the research program leader who leads the team that created the tool.
"MURDOCK Study participants are representative of the diverse Kannapolis and Cabarrus County communities. Using our tool, the MURDOCK Study population can be classified and categorized in nearly infinite ways to support research use cases," Wixted said. "Duke Kannapolis offers fit-for-purpose data management and informatics, meaning that we tailor our services to the needs of our projects and collaborating researchers."
Services are provided by trained and experienced analyst programmers with a broad range of technical skillsets.
Opportunity to Obtain Biospecimens
Duke Kannapolis designed the data exploration tool with researchers in mind, allowing users to select and de-select criteria and apply filters to identify cohorts of interest and view corresponding data. The MURDOCK Integrated Data Repository (MIDR) comprises multiple data domains, which have been organized into different views that investigators can toggle to see various types of data.
The MURDOCK Registry also has been organized into storefronts that summarize characteristics, data, and samples for a population of research interest.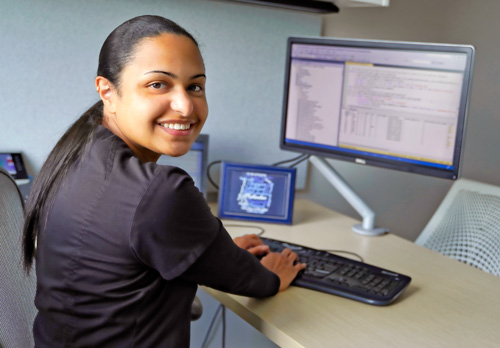 Svati H. Shah, MD, MHS, director of Duke Kannapolis, encouraged Duke investigators to take advantage of the new tool and Biorepository Transformation Initiative, which offers a unique opportunity to obtain biospecimens for research. To make the MURDOCK samples easier to access, researchers will only incur costs for biospecimen retrieval and shipment.
"Through this science-forward initiative, we are making thousands of biospecimens and associated clinical and outcome data available to all Duke researchers," Shah said. "We are thrilled for the opportunity to share this powerful resource with more Duke collaborators, and we are incredibly grateful to the greater than 12,000 participants who contributed to one of the most unique biorepositories of its kind."
Duke Kannapolis is committed to fulfilling biorepository requests as expeditiously as possible with a goal of having all requests received in 2022 and early 2023.