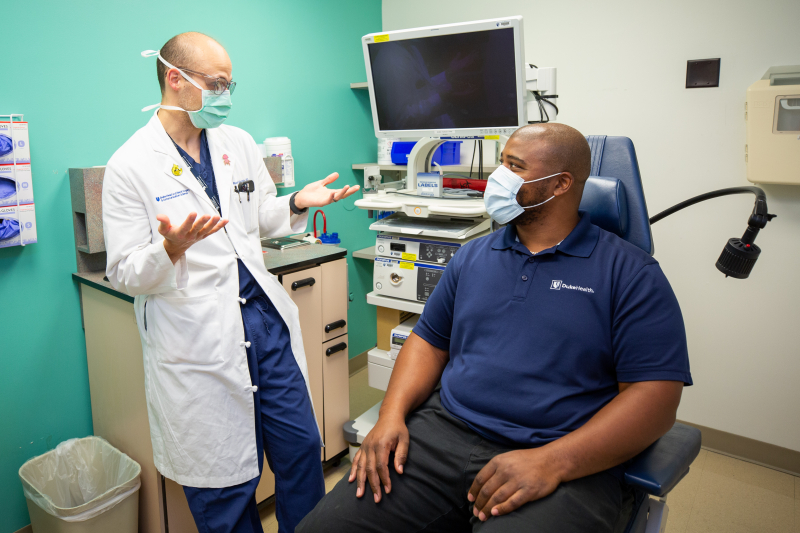 The Duke Clinical and Translational Science Institute (CTSI) is collaborating with the Duke Department of Emergency Medicine on a study to evaluate the effectiveness of COVID-19 vaccines and the long-term impact of infection among health care personnel.
CTSI's research site at Duke Kannapolis oversees and manages recruitment and enrollment for the project at Duke, one of 20 sites nationwide for the public health surveillance project dubbed Preventing Emerging Infections Through Vaccine Effectiveness Testing, or PREVENT II. Anyone who works at a Duke Health location and has recently been tested for COVID-19, whether positive or negative for infection, may be eligible to participate.
Duke Emergency Medicine is partnering with the U.S. Centers for Disease Control and Prevention (CDC) and the University of Iowa on the study.
"Duke is a part of an important national initiative to really understand the effectiveness of COVID vaccines and boosters and to promote public health interventions to help prevent future pandemics," said Stephanie Eucker, MD, PhD, assistant professor of emergency medicine and site investigator for PREVENT II. "Duke has the infrastructure to make this happen, and that is part of the reason we could get the project up and running so quickly."
PREVENT II will enroll at least 600 Duke Health employees in the coming year. Eucker, a pain researcher focused on health equity and improving public health, said the COVID-19 initiative interested her as an epidemiological study of vaccine status, infection rates, and outcomes in health care personnel, who represent the overall population.
She credited the Duke Kannapolis team, which has recruited more than 14,000 community members in Cabarrus County for clinical research studies since 2008, with the experience and expertise to launch PREVENT II for Duke.
"They have been very systematic and organized, with great attention to detail. Accuracy is paramount, and they are totally tenacious with acquiring data and following up," Eucker said. "Everything I needed them to do, they had experience in. The study is in good hands."
The University of California, Los Angeles (UCLA) leads the two-phase PREVENT initiative. PREVENT I was among the first to demonstrate the real-world benefit of mRNA vaccines in preventing symptomatic infection. PREVENT II, co-coordinated with the University of Iowa, examines the effectiveness vaccines and boosters, including those authorized for specific virus variants.
"We are thrilled to collaborate with Duke Emergency Medicine," said Julie Eckstrand, RPh, executive director of Scientific Programs at Duke Kannapolis. "Dr. Eucker's team did extensive technical groundwork, and our team was able to jump in with both feet. This is the kind of project made for Duke Kannapolis, where we take pride in working hard and conducting studies with excellence."
Carla Kingsbury is the lead coordinator for PREVENT II for the Duke site, and Micki Rockett is a study coordinator. Both are based at Duke Kannapolis. Karina Goicochea with Duke Emergency Medicine is also a study coordinator.
Duke Health employees who are tested for COVID through work will automatically receive an email to join the project. Duke Health employees who test for COVID at home also may qualify. To learn more, contact prevent2@duke.edu.