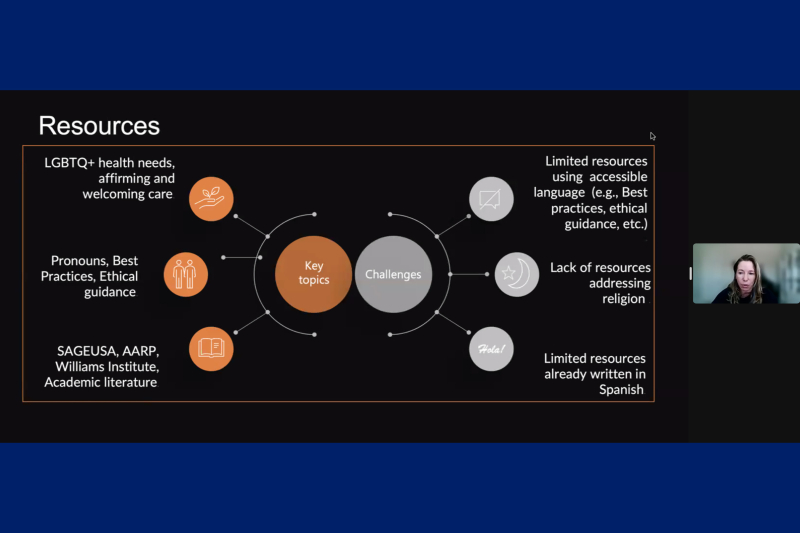 Members from Bass Connections teams led by Duke National Clinician Scholars Program (NCSP) scholars and faculty leaders recently presented their research findings as part of the Duke-Margolis Seminar in Health Policy & Management.
These seminars are designed to foster an open exchange of policy-relevant ideas, research, and developments, with the goal of connecting the Duke research community and helping to develop work on health policy. 
The three Duke NCSP-led teams that presented at the recent seminar include:
"

Developing Nursing Resources for LGBTQ+ Older Adult Care Using Human-Centered Desig

n,"

presented by

Glaucia Salgado, Alexis Domeracki, Melanie Wang, and Perisa Ashar

Led by Jennifer May, PhD,

RN, ANP-BC,

and Devon Noonan, PhD


 

"

Financial Toxicity in Dementia

,"

presented by Eli Boone, Annie Qin, Heiley Tai, and Ali Raich

Led by Kamal Golla, MD, MPH, Melissa Harris-Gersten, PhD, RN, and Chuck Scales,

MD, MSHS, FACS


 

"

Improving Access to Behavioral and Mental Health Services for Latinx Children in NC

,"

presented by Francisco Banda and Karina Vasudeva 

Led by Jeylan Close, MD, and Duke NCSP alumna Rushina Cholera, MD, PhD
Bass Connections is a program that gives Duke students a chance to tackle complex societal problems alongside Duke faculty by working collaboratively as a research team. These teams draw on perspectives and methods from multiple disciplines, as well as robust engagement with communities, stakeholders and decision-makers.
May joined the Duke NCSP program in 2021, and her research has focused on research concerns investigating equitable care toward LGTBQ+ older adults. She said her time working with the Bass Connections scholars so far has been phenomenal.
"Bringing together students with various personal and academic backgrounds united with a common goal, provides a level of richness, creativity, and thought that is unmatched," May said. "Having this opportunity has facilitated my growth as a researcher, educator, and mentor that will serve me well in my future endeavors."
Close, a member of the fourth Duke NCSP cohort that arrived in 2022, has a background in pediatric psychiatry. She is proud of the work she and her Bass Connections students have accomplished so far in their project.
"Working with the Bass Connections students has been such a wonderful experience," Close said. "I have really enjoyed learning and growing with the group, and look forward to continued work with Bass Connections.
---
On April 19, these NCSP-led teams will share their projects during an afternoon celebration showcasing the breadth of interdisciplinary work. Learn more about the showcase.