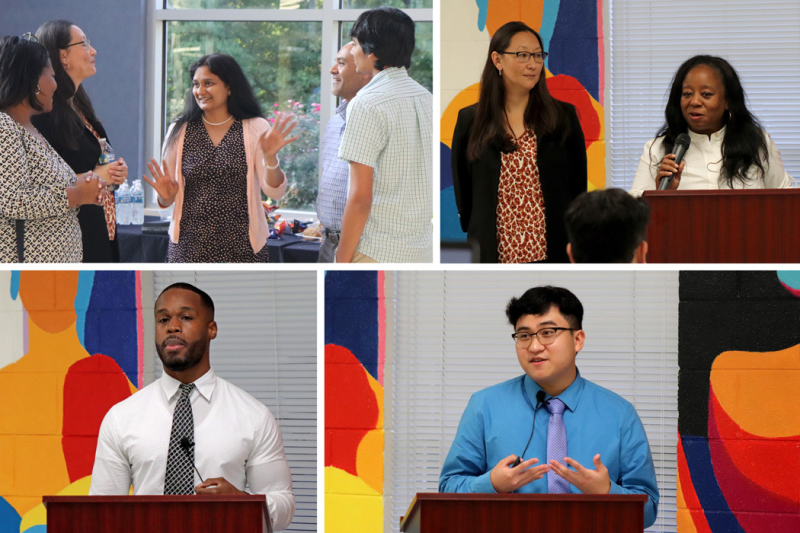 Scholars from this year's Clinical Research Equity Scholars cohort presented their capstone projects and discussed what they learned during their time as scholars during a closing event.
Held at the Research @ Pickett Road clinic, the event included remarks from program leaders Nadine Barrett, PhD, director of the CTSI's Center for Equity in Research, and Sharleen Traynor, PhD, MPH, director of the Clinical Trials Research Associate Program at Durham Tech.
The Clinical Research Equity Scholars Program is a innovative and transformative partnership   between Durham Technical Community College and Duke CTSI that provides Durham Tech students the opportunity to participate in skill-building training activities to integrate equity in clinical research operations and promote diverse representation in clinical research participation, gain hands-on experience working with clinical research teams, and work to address disparities in clinical research by engaging with communities that are underrepresented in clinical trials.
This year's scholars worked on recruitment efforts to support dermatology trials, the PREVENTABLE study about dementia in older adults, and the CARE and JUSTICE Study about kidney disease. Through working with these research teams, the scholars had the opportunity to apply and enhance the training they receive through the Durham Tech Clinical Research Program, learn more about clinical trials, and strengthen their research skills. This partnership and program is critical to bringing equity to clinical research and diversity to the clinical research workforce.
"The internship has been nothing short of a fantastic opportunity to apply my background in sociology to the clinical research field," said Joshua Carino, who worked with the PREVENTABLE study. "I've now gotten to see firsthand the triumphs and shortfalls of including equity practices in the clinical research space. It has motivated me more than ever to push for more diversity and equity in all my future studies and ventures in clinical research and to strive to establish an industry standard for these practices."
Along with exposure to clinical research, the scholars also participated in the Engagement, Recruitment, and Retention Certificate Program and the Just Ask program. The certificate program helps participants expand competence in these practices and provides the tools and confidence necessary for staff to take steps toward being more inclusive. The Just Ask program helps to ensure that patients are aware and knowledgeable about research and clinical trial participation and that researchers are well-equipped with the necessary skills to communicate and effectively engage with diverse populations.
"The program deepened my understanding of disparities faced by underserved communities, providing transformative lessons that will last a lifetime," said Leshon Matthews, who worked with the CARE and JUSTICE Study team. "This experience has equipped me to be a more effective clinical research coordinator for the people."
The application for next year's scholarship program is expected to open on Nov. 1. To learn more about the program or how your study can advance equity, diversity, and inclusion by hosting an Equity Scholar, contact Taryn Cavanaugh Faulk, senior program coordinator with the CTSI Workforce Development Core.
---
Photos by Duke CTSI
Photo collage: Three of the 2023 Equity Scholars, Sahradayi Patel, Leshon Matthews, and Joshua Carino, and CTSI's Nadine Barrett, PhD, and Durham Tech's Sharleen Traynor, PhD, at the closing event.