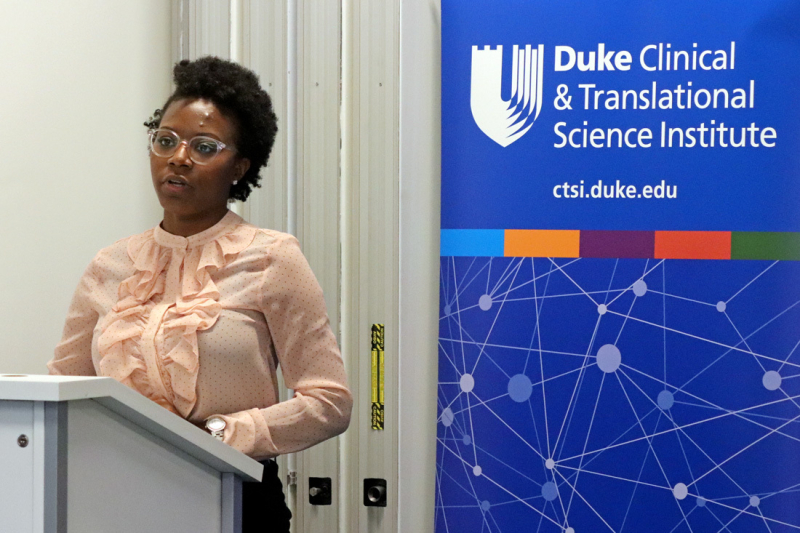 As Paris Rutherford's undergraduate experience at North Carolina Central University (NCCU) came to an end, she began to think about her next steps post-graduation. Paris earned her bachelor's degree in public health education and certificate in clinical research, and she had ambitions to continue working in public health.
Paris applied to the Clinical Research Sciences Program (CRSP), a partnership between Duke and NCCU designed to build a clinical research workforce with a strong focus on health equity and community engagement. During her time in CRSP, one of her advisors, Tracie Locklear, recommended she look into internship opportunities available to NCCU students through the Duke-NCCU Bridge Office.
The Duke-NCCU Bridge Office Internship Program launched in the summer of 2022. The Bridge Office collaborates with various partners to provide NCCU students with work experiences in Duke offices and clinical research spaces, connections to professional development resources, matchmaking with mentors, and individualized coaching expertise.
Paris secured a paid internship with Duke Clinical Research Institute where she worked as a RADx® Underserved Populations (RADx-UP) intern. During her internship, Paris helped coordinate community-engaged clinical research projects focused on expanding testing capacity in underserved communities. She also helped develop outlines and content for workshops on the community engagement framework.  At the conclusion of her internship, Paris presented her work before faculty, mentors, community members, fellow interns, and staff at an Internship Closing Ceremony sponsored by the Duke-NCCU Bridge Office.  
"I learned how to take the time to build new concepts and ask for help when needed," Paris said. "I asked for help and allowed myself to be mentored as an intern."
After graduating from the internship program at the end of summer 2022, Paris began looking for full-time opportunities in clinical research. Her career search brought her back to Duke, and in January 2023, Paris joined Duke CTSI as a Clinical Research Coordinator for the Research Equity and Diversity Initiative (READI).
"My internship experience led me to want to be a part of something greater, and I knew that this role at Duke CTSI would provide that for me," Paris said. "This role allows me to utilize both my skills as a public health professional and clinical research coordinator to implement a community partnered research network here in Durham, NC and I am very excited to represent my NCCU."
Applications for the 2023 Duke-NCCU Bridge Office Internship Program are open and accepted on a rolling basis as deadlines vary based on internship placement sites.
"We are thrilled to be partnering with Duke Clinical Research Institute, Duke Psychiatry and Behavioral Sciences, CTSI Workforce Development, and other groups to develop internship and professional development opportunities for students," said Lisa Davis, PhD, MSPH, director of operations for the Duke-NCCU Bridge Office. "To see the amazing growth that occurs among the students from start to finish is truly incredible and helping to build a more robust pipeline of future clinical research professionals."
For more information on the internship program, or to learn how to work with the Duke-NCCU Bridge Office to host an intern, email Dr. Davis at Lisa.p.davis@duke.edu .