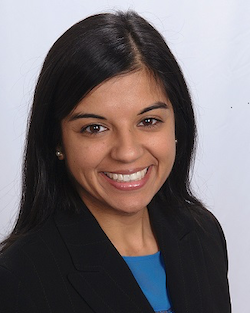 Part of the 2019-2021 inaugural cohort of Duke's National Clinician Scholars Program (NCSP) and now a pediatrician and epidemiologist at Duke, Rushina Cholera, MD, PhD, not only excelled in rigorous, mentored training but also became part of the Duke family, continuing the Duke CTSI legacy of nurturing health equity change agents.
NCSP comprises six prestigious universities nationwide and provides physicians and post-doctoral nurses training in policy and health improvements. The two-year program aims to cultivate health equity, eliminate health disparities, invent new models of care, and achieve higher quality health care at a lower cost.
The Duke NCSP focuses on community-based research, health services research, health policy, and implementation science across various disciplines. Cholera was one of four scholars prepared for leadership in clinical research and health policy in North Carolina and beyond.
Cholera completed her MD and PhD in Epidemiology at the University of North Carolina at Chapel Hill before doing a pediatric residency there as well. While doing her residency, she saw the impacts of immigration policies on healthcare outcomes for Spanish-speaking families, which catalyzed her interest in learning more about health policy. After her residency, she decided to apply to Duke's NCSP. Throughout the application and interview process with multiple NCSP programs nationwide, Cholera found that the program at Duke would best meet her career objectives.
"The program launched my career as a clinical scientist, particularly for someone like myself who is dedicated to policy-facing work that has the potential for real-world change," Cholera said. "The program's focus on community engagement and being embedded in the Duke Margolis Center for Health Policy allowed me to do the type of work I wanted, and those things attracted me to the program."
Upon graduating from NCSP in 2021, Cholera transitioned directly to joint faculty appointments at Duke in Pediatrics, Population Health Sciences, and the Duke Margolis Center for Health Policy. In these appointments, she is an Assistant Professor of Pediatrics, an Assistant Professor in Population Health Sciences, and a Faculty Fellow at Duke-Margolis Center for Health Policy.
"It feels amazing," she said. "Similar to when I started the NCSP fellowship, it was really clear that staying at Duke would be the right choice."
Like her initial work in NCSP, Cholera's work today involves understanding the unmet social and healthcare needs of children and families to promote health and health equity. She continues to study policies impacting the health and well-being of immigrant and refugee families. In her clinical work, she enjoys walking with families through every step of parenthood and beyond.
"The program allowed me to bring together and hone multiple different skills in research, policy, and clinical work to genuinely lead to impactful change," she said. "I think that for those finishing their residency, this opportunity to be a change agent is a unique focus within NCSP that other fellowship programs don't have. This approach leads to both an invaluable skillset and perspective for future students and scholars."
During her time as a scholar, Cholera said some important milestones included working with policymakers with the North Carolina Department of Health and Human Services on the Early Childhood Action Plan. That plan was developed to improve early childhood outcomes statewide related to children's health, safety, and well-being in the state by 2025. She also wrote a published commentary — aside from only focusing on research papers — that voiced inequities in health. These milestones as an NCSP scholar pushed her in the direction of being not only an academic scholar but also a leader.
Recently, two new NCSP scholars were announced for the 2023-2025 cohort and represent the fifth group of interdisciplinary researchers recruited to the Duke NCSP site. More information and how to apply to be a scholar can be found on CTSI's Duke NCSP webpage and NCSP's main website.