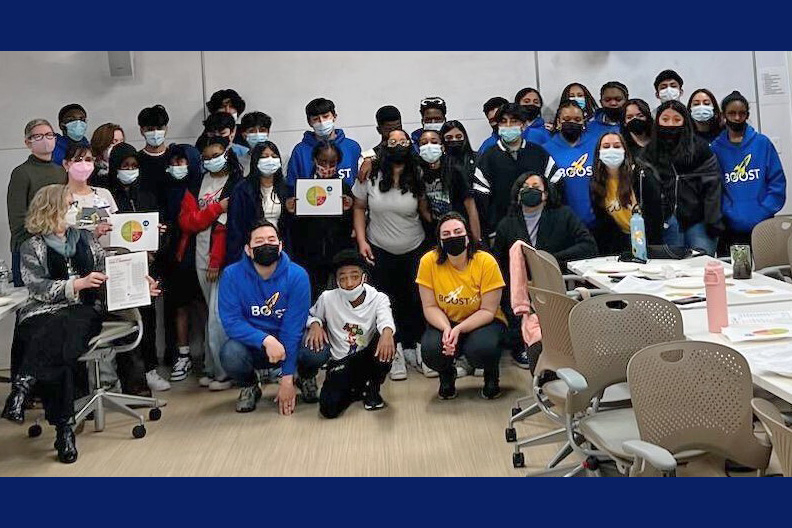 On March 11, members of the Research Equity and Diversity Initiative (READI) workforce development working group teamed up with Dr. Susan Spratt to introduce seventh grade participants in the BOOST Program at Duke University to the topic of diabetes prevention. BOOST is a multidimensional program serving Durham Public Schools students in fifth through eighth grades, with the intent to excite young people about STEMM and inspire them to pursue careers in medicine and related fields. The program serves students whose identities are historically underrepresented in STEMM—namely, African American, Latinx, and Indigenous students; girls; and young people from economically disadvantaged backgrounds.
Dr. Spratt, a Duke diabetes and metabolism specialist and an endocrinologist, provided a quick primer on the causes of diabetes, its impacts, and how we can avoid it through healthy eating. BOOST Scholars were then invited to brainstorm on what might constitute a healthy plate of food. And finally, in a nod to the use of social media for public health promotion, Scholars were invited to create TikToks educating others on how to avoid diabetes by eating right. The TikToks can now be viewed on the BOOST TikTok page.
READI is working to engage the community as equal partners in research; the workforce development working group views outreach activities like this BOOST event as ideal means for promoting that partnership by sparking student interest in research careers. Plans are afoot to invite another BOOST cohort to the research site at Pickett Road in the fall for a deep dive in what actually comprises a research study to inform diabetes prevention efforts and treatment.
To learn more about The BOOST Program and explore ways to get young people involved in your field, visit sites.duke.edu/boost.