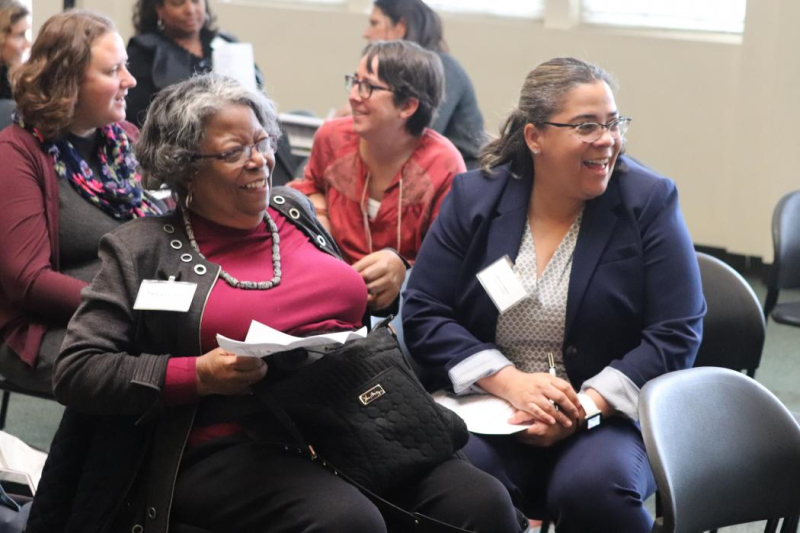 Dr. Leonor Corsino arrived at Duke in 2006 as an Endocrinology fellow seeking formal training in clinical research. Fifteen years later, Corsino looks back and marvels at each of the opportunities that came her way.
"I wanted to be a clinician scientist," she says. "And my career has evolved to include so many things I couldn't have ancipated on this journey."
Corsino's research focuses on diabetes, obesity and related complications, and health disparities. Her clinical research has led to the creation of several initiatives and an increased awareness of the need for more Hispanic/Latino representation in research. She built her research career on this work and continues to be actively engaged in health disparities awareness at the local and national level.
Throughout the last 15 years, Dr. Corsino has led four projects focused on Hispanic/Latino populations including the Hypertension Improvement-Latino, Latino Health Project, Patient and Provider Management of Osteoarthritis-Latino, and her current project, A Transition of Care Model from Hospital to Community for Hispanic/Latino Adult Patients with Diabetes. In addition, she is an associate investigator in the NIH-sponsored Hispanic Community Health Study/Study of Latinos. Her work has been recognized locally and nationally, and she has earned many awards, including the NIH/NIDDK Network of Minority Health Research Investigators medallion.  
At Duke CTSI, Corsino is one of the co-directors of the Community Engaged Research Initiative (CERI), which facilitates equitable, authentic, and robust community-engaged research to improve health. She believes CERI has provided an excellent platform for community voices that have not been heard.
"The work our CERI team does is so important, and that has been more obvious during the COVID-19 pandemic," she says. "This year we've worked with organizations on how to engage and educate the community on vaccines and testing. This experience has caused more people to think about the importance of engaging with our community, and our work in this domain has exploded."
Corsino is also involved in many Duke programs aiming to diversify the workforce. She has been the faculty advisor for the Duke School of Medicine Latino Medical Student Association since 2009, and she served as a diversity strategist in the School of Medicine Office of Diversity and Inclusion.
"I want to contribute to the training and education of the next generation of leaders, physicians, and scientists who reflect the diversity of our country." 

- Dr. Leonor Corsino
As the Associate Chair of the Department of Medicine Minority Recruitment and Retention Committee, she started the Latino initiative, designed to increase Latinx representation in the department as well as interest in Latinx-related research. The initiative helped increase the number of Hispanic/Latino residents and fellows in the department.  She advises and supports the Scholars Academy for Latinxs United for Diversity (SALUD) and also works as Associate Director for the Duke School of Medicine Master of Biomedical Sciences. This year, she started the Duke Master of Biomedical Science Postbaccalaureate Research Education Program (PREP) program with support from the SOM Dean and Chancellors office and is an Associate Dean of Students Affairs at the SOM.
In her former role as the Co-Director for Research to Advance Health Equity (REACH) training and education core, she was the co-developer of the Summer Undergraduate Research Program (RESURP) and is a regular faculty guest in the Academic Development, Advocacy, Networking, Coaching and Education for Underrepresented Populations (ADVANCE-UP) program. In addition, she is a course director for the newly redesigned School of Medicine Medical Spanish course.
Corsino's impact in patient care has been significant. She established the endocrinology clinic at the former Duke Diet and Fitness Center and at the endocrinology clinic in the Duke Center for Metabolic and Weight Loss Surgery. She was instrumental in working to secure institutional approval for incorporating Spanish translation of the content in DUHS' Duke MyChart patient portal. She provides care for her  patients with diabetes and continues to advocate for increased access to specialty care for underinsured and uninsured patients as a member of the Project Access of Durham County.
"I want to contribute to the training and education of the next generation of leaders, physicians, and scientists who reflect the diversity of our country," says Corsino. "This is my passion and the focus of my work."