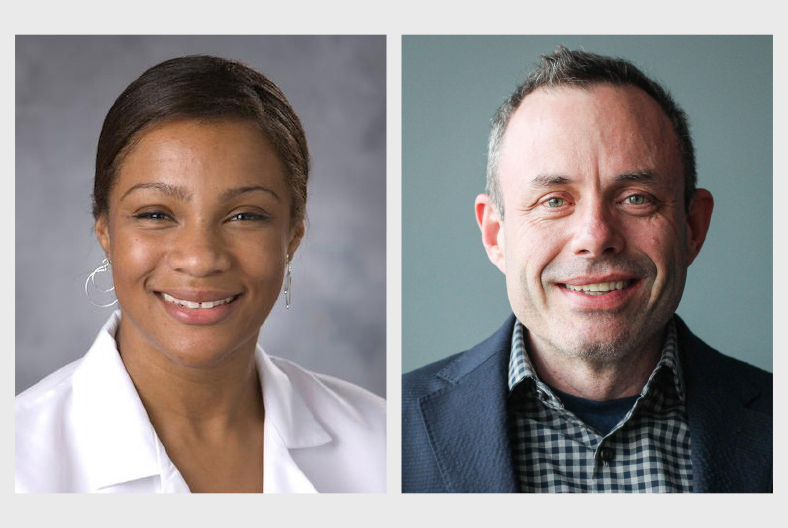 The Duke CTSI is proud to announce the appointment of Kanecia Zimmerman, MD, PhD, MPH, and Joe McClernon, PhD as faculty associate directors of the CTSI. Zimmerman will serve as the associate director of Engagement and Health Translation, and McClernon will serve as the associate director of Partnerships and Integration.
Zimmerman and McClernon bring unique insights and expertise to the CTSI and will guide expanded programs to broaden the impact of the CTSI across Duke University and Duke Health, as well as deepen our partnership with local and regional communities. While they will have different areas of focus, they will work closely and collaboratively to take on cross-cutting and outward-facing initiatives including rapid translation of research to clinical practice, decentralization of clinical research beyond traditional academic centers, and growth of the Duke-NCCU partnership supported by the Duke-NCCU Bridge Office.
Zimmerman is a professor in the Duke Department of Pediatrics, where she specializes in pediatric critical care medicine. She recently served as chair of the steering committee for the Pediatric Trials Network, a national pediatric clinical research program funded by the Eunice Kennedy Shriver National Institute of Child Health and Human Development, and currently helps to oversee the network. Zimmerman also serves as principal investigator for multiple research projects funded by the National Institutes of Health and the U.S. Food and Drug Administration.
In her work with clinical trials, Zimmerman has often focused on improving participant and family engagement throughout the trial life cycle, as well as enhancing participant and workforce diversity in this space. She is also passionate about community-partnered research with children and families. During the COVID-19 pandemic, Zimmerman co-founded the ABC Science Collaborative to unite scientists and K-12 schools in service of children and families. She is committed to developing the next generation of physician-scientists. 
McClernon has been an integral part of the CTSI for four years, serving as the director of the Evaluation and Strategic Planning core, interim co-director of the Team Science core, and the director of our Integration and Strategic Partnerships Pillar. During his tenure with CTSI, his guidance has been critical to building a culture of evaluation and continuous improvement, in strengthening the institute's partnership with NCCU and other regional partners, and in planning strategy and development for the institute. 
McClernon is a professor in the Duke Department of Psychiatry and Behavioral Sciences and founder/director of the Center for Addiction Science and Technology (CfAST). His research is focused on improving our understanding of tobacco use, developing new and more effective interventions for nicotine dependence, and informing the FDA's regulation of tobacco products. He has served as a site PI and co-investigator for over ten years in the Center for the Evaluation of Nicotine in Cigarettes (CENIC) — a national consortium that has provided extensive evidence to the FDA for informing national policies that will reduce nicotine in cigarettes to non-addictive levels. His work has been continuously funded by the NIH, FDA, and foundations since 2002.
The expertise and experience that Zimmerman and McClernon bring to the CTSI and their leadership within our organization will support our expanding mission with a strong focus on improving health and health equity for Duke patients and our communities and advancing our important partnership with NCCU as we implement the Duke-NCCU CTSA in the coming months.
McClernon begins his new CTSI leadership role this month. Zimmerman will officially join the CTSI on January 1, 2024.