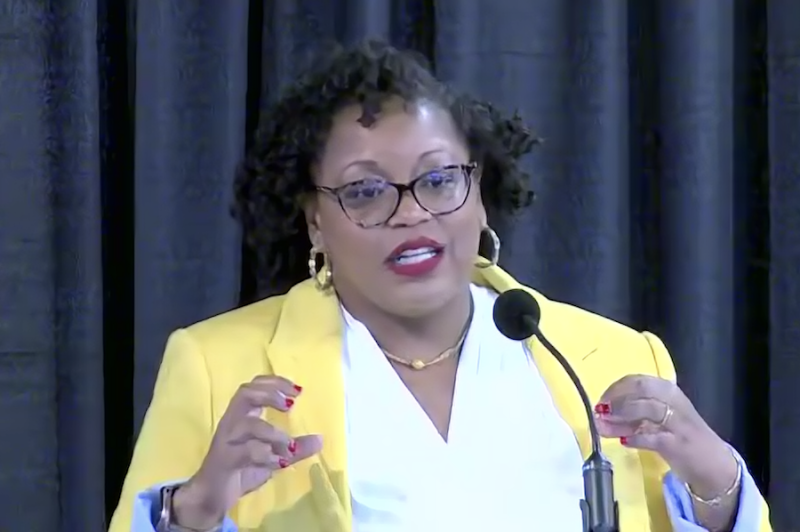 Keisha Bentley-Edwards, PhD, co-director of Duke CTSI's Integrating Special Populations and Equity in Research cores, presented her research in racial health disparities as part of the Duke School of Medicine's Dean's Distinguished Research Series.
During her presentation, Bentley-Edwards discussed how racial health disparities act as social drivers of health. Her research examines how things like religiosity and spirituality impact the health of African Americans.
Through her research, Bentley-Edwards has looked at resiliency in response to stress around racism. Resiliency is defined as a person's positive adaptation after exposure to a significant threat of severe adversity. She said this concept often romanticizes struggle, particularly when it comes to people of color.
"There's an assumption that resiliency is common, that it's just a natural response to adversity, but there are problems in how it's measured," Bentley-Edwards said. "We have to believe that we can help people who have experienced adversity live better lives. However, I do feel like there are problems in the way that we have executed the conversations about resilience."
In order to understand the racial health disparities seen today, Bentley-Edwards said it's important to understand the historical context, including the foundation of race correction in medicine in the 1800s.
Additionally, she discussed how things like the Flexner Report on U.S. medical education led to standards in medical care and training that shuttered historically Black hospitals and perpetuated systemic racism in the medical community.
"There have been estimates that if the five hospitals that were shut down as a result of the Flexner Report were still functioning, we'd have approximately 30,000 more Black doctors in this country," Bentley-Edwards said. "This has implications for care, especially when we start talking about racial correlations between patient and provider."
In conclusion, Bentley-Edwards said the biggest reason why these issues persist is because they seem like such big problems, requiring everyone to work together to solve them.
"This heavy health burden faced by Black people is not accidental," she said. "It's not an act of God. It's part of a system. And if it was created by a system, that means that we can disrupt that system."