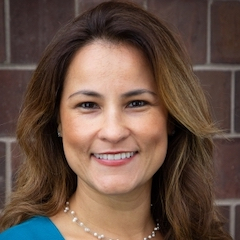 Duke CTSI Equity and Learning Health Communities Pillar Co-Director Raquel Ruiz, MBA, MA Ed, co-authored two special communications in the Journal of Clinical and Translational Science.
The coupling of qualitative and quantitative data is the focus of the publication, "Moving beyond annual data reports: A blueprint for communicating and disseminating actionable intelligence." Using a data-to-action framework to engage national stakeholders and a multi-pronged communication approach to dissemination, Duke CTSI contributed metric data to these annual reports, along with all 50 national CTSA sites.
The second publication, "From insights to action: Enriching the clinical and translational research workforce by developing diverse and inclusive career programs," describes the methodology employed for engaging CTSAs to identify and articulate strategies they were implementing to enhance the diversity of scientists within the field of translational science.
The tool cited in the publication, From Insights to Action, is a resource CTSA sites can use to help develop a diverse clinical and translational science workforce. The Duke CTSA KL2 program was highlighted in this resource as an example of workforce development programs that have excelled in diversification.