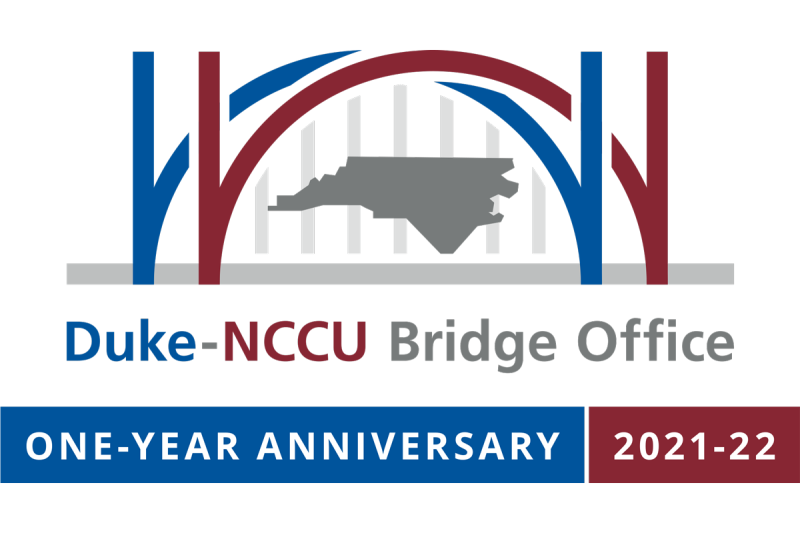 In August, Duke Clinical and Translational Science Institute marked the first anniversary of its Duke-NCCU Bridge Office, a partnership between Duke University and North Carolina Central University.
The office is the result of a partnership between the universities dating back to 2017. It works to create opportunities to collaborate, ensure workforce diversity, build new research teams, support underrepresented minority researchers, and improve health outcomes. All of which are through innovative and creative projects that include outreach and education opportunities to various communities in and beyond Durham. 
The partnership was formalized in 2017 with a ceremony attended by leadership at both institutions, including Chancellor Akinleye of NCCU, Chancellor Washington and Dean Klotman from Duke, and many others.
Duke CTSI Director L. Ebony Boulware, MD, MPH, and NCCU Special Assistant to the Chancellor, Faye Calhoun, MS, DPA, envisioned a central "bridge" — between the two institutions that would facilitate collaboration and meaningful opportunities — for relevant research and training for faculty and students across both campuses. Their vision culminated in the Duke-NCCU Bridge Office, which launched in 2021.
Boulware is proud of the Office's achievements in its first year.
"The Bridge Office has accomplished extraordinary results by focusing on collaborative research, developing new training opportunities for clinical and translational scientists, and in engaging with our community. We have also built a strong collaborative leadership team between Duke and NCCU," said Boulware. "The accomplishments in this first year confirm that Duke CTSI and NCCU are creating great opportunities for meaningful research and career advancement for members of both campuses."
Calhoun, the NCCU Lead for this bridging initiative, agrees that the office cultivates a great partnership for both Duke and NCCU.
"The partnership is critical to both schools," Calhoun said. "The Bridge Office is a link between people and programs so that both sides work together. What the office does is ensure smooth interactions between individuals on each side of the bridge. If Duke or NCCU has a program or a need that requires an individual or assistance between both universities, we must make it happen."
Some significant milestones for the office in the past year include nurturing new partnerships, contributing to research proposals, branding, and launching the first class of the summer internship program, which hosted 10 NCCU students at Duke and community sites such as CTSI, Research at Pickett, DCRI, and more. The office also expanded its leadership team, adding Sabrina Vereen, as a Research Program Leader on the NCCU side.
Lisa P. Davis, MSPH, PhD, at Duke CTSI, is the office's director of operations. She said the office provides an excellent opportunity for students at both universities.
"The Duke-NCCU Bridge Office is a great resource for students because we create a bridge to new opportunities and help provide support and direction as they navigate their professional pathways," Davis said. "The office has also offered professional development workshops and helped connect students to workforce development and project management webinars to expand professional skill sets."
Duke CTSI member Gayathri Devi, MS, PhD, is the faculty director at the office. A collaborator, researcher, and mentor, she has conducted cancer research with faculty and students from both universities for over 15 years.
Devi said working with the NCCU faculty has been enlightening.
"Everyday, I gain new perspective on the innovative work that NCCU faculty are doing in all aspects of translational science, from the bench to bedside to curbside and back," Devi said. "I am impressed by the standard of excellence they set, and by the diversity of projects they undertake that truly engage with our local Durham community."
Devi is most excited about its goal for the coming year to expand faculty and student engagement in community-based projects addressing health equity, diversity, and inclusion while strengthening existing research portfolios, including the Duke-NCCU pilot awards supported by CTSI.
"I'm particularly thrilled to see the expansion of our workforce development program and interprofessional education activities that involve multidisciplinary teams at Duke and NCCU," Devi said. "We'll soon launch a new group of Duke and NCCU students to raise awareness of rare cancers and support for rare cancer research. In addition, the team will continue to work closely with Dr. Jonathan Livingston and NCCU Partners as they continue to develop Ethnodramas as an effective outreach platform to build social and health awareness within the local community."