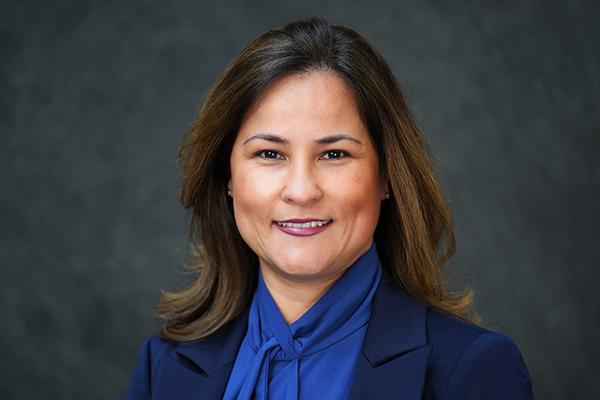 This article originally appeared on the Duke School of Medicine website.
Raquel Ruiz, MBA, MAEd, first discovered the importance of including diverse participants in research studies while working as a research assistant in college. Ever since, she has worked in some capacity to help advance health equity. Her passion for EDI most recently led her to the Duke Clinical & Translational Science Institute (CTSI), where part of her team's work includes building community trust in research.
In this month's EDI Spotlight, Ruiz talks to us about her work as a senior staff director for the Equity and Learning Health Communities Pillar at CTSI. She also gives a glimpse into what's to come for a new employee resource group for Latino staff that she will lead. And she shares a little about the things that bring her joy outside of work.
What is your current position within the Duke Clinical & Translational Science Institute (CTSI)?
I am the senior staff director for the Equity and Learning Health Communities Pillar. In this role, I have the incredible opportunity to lead programs working across the clinical research spectrum from supporting research study teams on efficient and effective engagement, recruitment, and retention to partnering with communities, organizations, and other academic institutions. Our goal as a pillar is to form diverse and equitable partnerships, and engage our community to accelerate health solutions.
When did you first become interested in work related to equity, diversity, and inclusion? What led you to your current position at Duke?
Equity, diversity and inclusion has been embedded in my work in public health, research, and education. As an undergraduate student, I assisted with the recruitment of research participants from the Latino community by engaging in outreach efforts. It was my first experience where it was evident the importance of inclusion of diverse participants in research studies, in particular my community. In my early work in public health, I worked in a needle exchange and outreach program serving people with health-related social needs. For a number of years, I conducted capacity building assistance to health departments nationally on evidence-based interventions for HIV prevention as a strategy to reduce infections in their jurisdictions. These past experiences cultivated the passion for health equity and inclusion as a cornerstone of my work.
My Clinical and Translational Science Awards (CTSA) national work with former CTSI director Dr. Ebony Boulware led me here to Duke. We worked together on numerous CTSA initiatives that focused on diversity, equity and inclusion. Results from this work led to a themed issue on DEI with the Journal of Clinical and Translational Science, of note: Laying the groundwork to make diversity, equity, and inclusion front and center in clinical and translational research and Enriching the clinical and translational research workforce by developing diverse and inclusive career programs. This collaboration led to an opportunity to bring my expertise to a new and prestigious institute such as Duke, and the means to work with a remarkable team.  
What are some of the current issues relating to equity, diversity, and inclusion that you and your team at Duke's CTSI are working to address?
Our motto at CTSI is equity in science, medicine, and health. EDI is in the fabric of our work across all CTSI programs and services spanning from improving health through health informatics, equitable conduct of clinic research, diversifying the translational science workforce, and building community trust in science and research through equitable partnerships. Some examples of projects in my pillar include our Recruitment Innovation Center's Return of Results program where they work with researchers to return aggregated study results to participants in lay-friendly language. Disseminating research results is critical to building trustworthy partnerships with communities we engage with in research. Project ENTRUST is another example of a collaborative program with Duke Health and our community partners to improve trustworthiness in our healthcare services and research which is being led by our Center for Equity in Research. The Social Informatics Program has developed the Social, Environmental, and Equity Drivers of Health Atlas as a resource for Duke researchers and community members to drive health research questions and solutions. These are just a few examples of the vast amount of impactful work that our programs are leading.
The Office of Equity, Diversity and Inclusion has plans to launch a new employee resource group (ERG) this fall for Latino staff and their allies, which you will lead. Can you tell a little about the group's purpose and give us a sneak peek at what you have planned?
ERGs date back to 1970 where the first official ERG in the US was created, Xerox National Black Employees Caucus. There is a long history of these at corporate companies. The driving force for these groups are for employees to advocate for more inclusion in the workplace and career advancement. They create community, connection and a support system to thrive in an organization. ERGs help attract new talent and retain employees. Additionally, they serve as a resource to human resources and senior leadership.
My hope and expectation for the Latino/Hispanic staff ERG is that we create a community to support professional growth and advancement, raise cultural awareness, and network across the organization. There has been a growth of Latino/Hispanic employees at Duke for the last few years and forming this ERG would give the 300+ staff at the SOM a way to connect into a robust network of Latino professionals. The Latino/Hispanic population has also grown significantly in Durham and surrounding counties, which provides a path for talent recruitment.  
We are planning an event in the fall to celebrate Hispanic Heritage Month. Stay tuned!
Do you have a moment or experience when the need for improving equity, diversity, and inclusion in academic medicine (or the country as a whole) felt especially urgent to you personally that you could share?
My work, as mentioned earlier, has centered on addressing EDI issues and gaps within the field of public health. It is difficult to pinpoint one specific moment or experience. The pandemic has certainly revealed the demand for better public health efforts and culturally appropriate strategies, and the imperative to diversify our scientific workforce for well-designed research questions and clinical studies. In order to advance health equity, public health and health care approaches must address both downstream (individual) and upstream (social determinants of health) conditions and challenges. This will require collaboration across sectors on transformative health strategies to begin to have impact on population health.  
What passions or hobbies do you have outside of work?
I like to spend my time with friends whenever possible. When I am not at work, I enjoy outdoor activities, attending a great play at the theatre, exploring NC sites, and watching football.