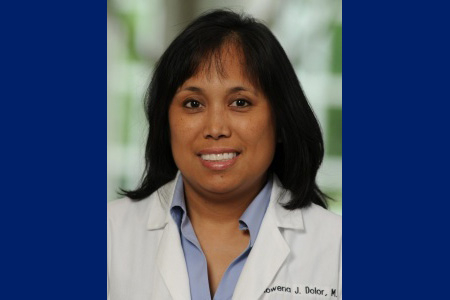 Rowena Dolor, MD, MHS, co-authored a recent Journal of the American Medical Association publication about a new tool that shows promise in helping primary care physicians identify adults with undiagnosed chronic obstructive pulmonary disease (COPD).
Dolor directs the Duke Primary Care Research Consortium (PCRC), a primary care research network for the academic and community practices within the Duke Health System and surrounding communities.
The COPD Assessment in Primary Care to Identify Undiagnosed Respiratory Disease & Exacerbation Risk (CAPTURE) — developed with support from the National Heart, Lung, and Blood Institute (NHLBI), part of the National Institutes of Health — was created to identify adults with COPD symptoms severe enough to treat, but who have not received a diagnosis. 
"This study was designed to find a simple way to screen patients for COPD in an outpatient clinic so we can identify cases earlier," Dolor said in a recent CBS17 segment.
Duke was one of seven U.S. primary care Practice-Based Research Network (PBRNs) that conducted research on this project from October 2018 to April 2022. Duke PCRC helped coordinate recruitments efforts across 26 Duke Primary Care clinics by enrolling close to 1300 participants. Other PBRN collaborators included Atrium Health, University of Illinois-Chicago, University of Colorado-Denver, Oregon Health Sciences University, LAnet (Los Angeles, CA), and Circuit Clinical (New York/New Jersey).
As part of a CAPTURE screening, which is already used by some physicians, patients answer five questions that assess their breathing and exposure to chemicals and air pollution. After a multi-year clinical trial, researchers found that CAPTURE successfully identified almost half of participants who had moderate to severe forms of previously undiagnosed COPD.  
"CAPTURE was a partnership between pulmonologists and primary care to assess a COPD screening tool and identify patients who would benefit from future evaluation like spirometry," Dolor said. "The primary care PBRNs were an excellent place for this study using a real-world population in this clinical trial." 
More than 15 million Americans have been diagnosed with COPD, a leading cause of death nationwide, and experts predict millions more have it but do not know it. CAPTURE screening gives healthcare providers information to further assess their patients with respiratory symptoms. Only about a third of COPD assessments include spirometry, a more common COPD test, in part because some find the tests difficult to integrate into shorter, primary care office visits.
"CAPTURE was designed to be easy for physicians to use," said Antonello Punturieri, MD, Ph.D., program director of NHLBI's Chronic Obstructive Pulmonary Disease/Environment Program. "The screening is simple, takes less than a minute, and helps identify adults with trouble breathing who should be evaluated further."