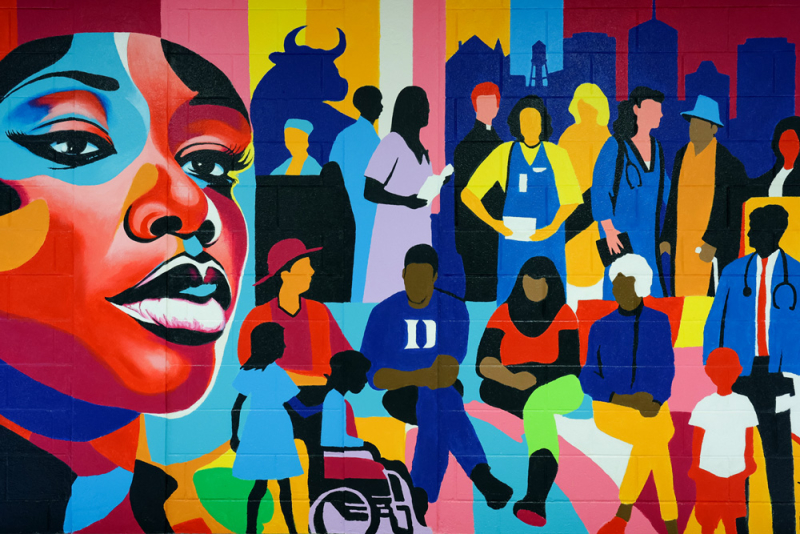 Neighbors, community health exhibitors, and local vendors gathered under a huge tent at a Duke research site on Saturday, July 8, to celebrate the unveiling of a mural that highlights the rich diversity, cultural heritage, and collective spirit that makes the Durham community so unique.
The free, public event drew a large crowd and featured delicious food, festive music, and many opportunities to learn more about health and wellness resources and services available to local community members.
The stunning mural has transformed a 34-foot wall into a work of art and symbolizes the mission of the Research Equity and Diversity Initiative (READI), a large effort focused on collaboration and engagement with the local community on health research that is important and relevant to people's lives.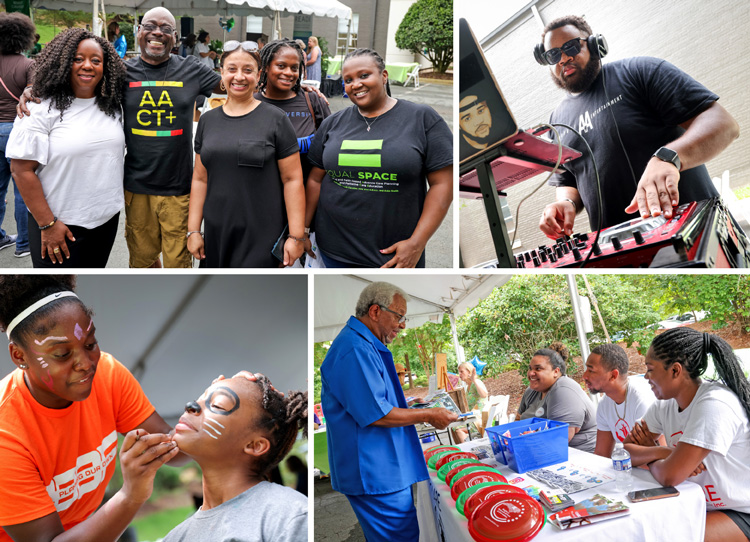 Community-Driven Research
Part of Duke Clinical and Translational Science Institute (CTSI) and funded by The Duke Endowment, READI seeks to improve health and advance health equity by making it easier for community members and researchers to work together on relevant health research.
This community-based approach relies on the guidance and advice of the READI Community Advisory Council, which includes study participants, healthcare providers, patients, and community and faith leaders. Through this essential collaboration, READI is working to ensure trust in research and increase broad representation in research participation and workforce.
The mural covers an entire wall at Duke Research at Pickett Road, a facility that READI opened in 2021 to provide space, staffing, and resources for clinical research and community engagement opportunities. This unique, freestanding site aims to support high-quality clinical research at Duke by providing a comfortable and accessible space and an efficient, diverse, and inclusive research team, as well as a place for community activities, meetings, and trainings.

Community-Driven Design
The colorful and compelling mural, designed by artist Max Dowdle and informed and painted by the community, graces the READI Community Room and invites visitors to explore the many themes threaded throughout the artwork. The mural features the Duke University, North Carolina Central University, and Durham Tech logos.
The mural creates a positive environment where members of the wider Durham community feel welcome and represented. Applications for the mural project were open to all professional artists or teams of artists, and local, regional, and North Carolina-based artists were specifically encouraged to apply. Applicants were asked to submit proposals designed for the location that:
Represented the vibrant nature of the greater Durham community.

Highlighted health and healing.

Amplified the importance of equity, diversity, and community engagement in clinical research.
Dowdle, director of NC Public Art, submitted the winning application. He designed the mural in collaboration with the READI Community Advisory Council and community members who have been intimately involved in the project. Dowdle synthesized feedback from the community into a lasting work of art, created by many people who painted under his guidance.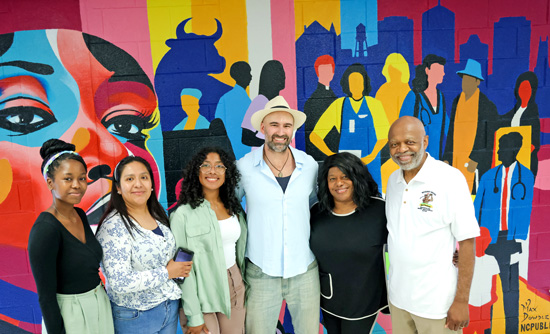 READI Co-Directors Susanna Naggie, MD, and Nadine Barrett, PhD, are committed to a long-term partnership with the community and maintaining connections beyond the walls of the Duke Research building. READI is focused on listening to community members and inviting them to tell researchers which diseases are important to them.
"That's when we know that we've made some real change," Naggie said.