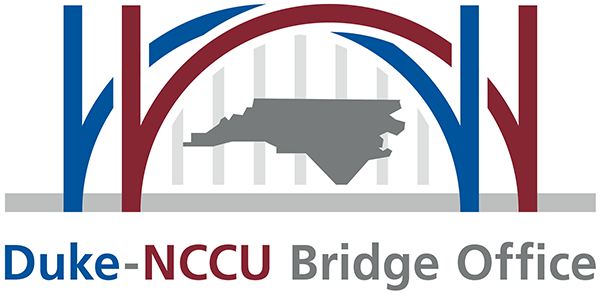 In September 2022, Duke University and North Carolina Central University (NCCU), a historically black college and university, celebrated a five-year partnership marked by extraordinary gains in cross-institutional educational opportunities, impactful research initiatives, and strong community outreach and support.
Formalized in 2017 during a celebration event on NCCU's campus, the partnership, with a $1.9 million investment from Duke, encourages joint clinical research projects and provides training and certification to NCCU students in conducting clinical research. 
Though both universities previously collaborated on various initiatives, Ebony Boulware, MD, MPH, Director of the Duke Clinical and Translational Science Institute (CTSI), and NCCU Special Assistant to the Chancellor, Faye Calhoun, MS, DPA, spearheaded the strategic partnership to develop educational and career opportunities, fund and administer pilot projects, and strengthen engagement within the local community. 
NCCU Chancellor Johnson Akinleye and Duke Chancellor for Health Affairs Chancellor Eugene Washington endorsed the deal initially negotiated between the directors of NCCU's Biomanufacturing Research Institute and Technology Enterprise (BRITE) and Duke's CTSI.
In 2021, Duke CTSI and NCCU established the Duke-NCCU Bridge Office, which creates a "bridge" for opportunities to collaborate, ensure workforce diversity, build new research teams, support underrepresented minority researchers, and improve health outcomes.
Boulware and Calhoun were instrumental in the office's creation, which celebrated its one-year anniversary in 2022.
"I think the Bridge Office went from a good idea to a tremendous success in one year," Calhoun said.
"We have grown together, and the partnership has strengthened over the years. Along with the Bridge Office, we have been working individually with investigators and students, which has led to achieving great results in clinical research for each university."
Calhoun, who serves as the NCCU lead at the Bridge Office, said she is very proud of the work accomplished by the office in 2022 to bring the first summer cohort of 10 interns to Duke to partake in hands-on experiences in departments, clinics, and labs. In addition to working with mentors and research participants, the interns attended professional development workshops throughout the summer, gaining rich educational opportunities and building a strong network of potential future collaborators.
The Bridge Office's leadership team also includes Faculty Director Gayathri Devi, MS, PhD, and Director of Operations Lisa Davis, MSPH, PhD. Devi and Davis bring diverse and complementary expertise and longstanding ties with both institutions.
Devi, an Associate Professor of Surgery and Pathology at Duke University, is also the Program Director of the Duke Inflammatory Breast Cancer Consortium and Associate Director for Research Education in the Department of Surgery. Davis is the Director of Special Projects at CTSI, Secretariat for the Lancet Commission on Hearing Loss, and lead for the Duke CTSI Training and Wellness Academies. In 2022, Sabrina Vereen, also joined the office's team on the NCCU side as the Research Program Leader.
Since 2019, the Duke-NCCU pilot awards have been awarded to a Duke and NCCU faculty member who work together to conduct a clinical study. 
The latest study analyzed Alzheimer's diagnosis and progression with Shih-Hsiu Wang, Department of Neurology at Duke, and Bin Xu, Biomanufacturing Research Institute and Technology Enterprise (BRITE) at NCCU. In addition, from 2019 to 2020, Ann Brewster with the Social Science Research Institute at Duke and Lorraine Taylor with the Criminal Justice, Juvenile Justice Institute at NCCU studied the mental health and well-being of rural African American transition-age youth (AA-TAY).
Duke CTSI's workforce development pillar, led by Faculty Director Steven C. Grambow, PhD, and Senior Staff Director Amanda McMillan, MPH, MA, has been crucial in managing, coordinating, and training students, staff, and faculty throughout the partnership. In addition, the pillar also supports NCCU's Clinical Research Science Program (CRSP), which offers a bachelor's, certificate, and minor in clinical research at NCCU.
In 2023, the Bridge Office plans to continue building relationships in departments, strengthening the pilot studies program, becoming involved in new projects, and raising awareness for rare cancer research. It will continue supporting NCCU's ethnodrama program – a form of theater turning research data into dialogue that resembles a traditional play – as an effective outreach platform to build social and health awareness within the community. The workforce development team will continue to assist with program and interprofessional education activities that involve multidisciplinary teams at Duke and NCCU.
Building on fantastic results from the past five years, the partnership continues to grow and produce diverse, engaging, and expansive clinical research opportunities for future scholars, staff, and faculty at both universities. The partnership will remain a vital asset for Duke, NCCU, and the Durham community for years to come.