A tool to facilitate inclusion of special populations in clinical research.
The Integrating Special Populations Core assisted Barrett Bowling, MD, in developing the 5Ts Research Framework. Although the framework was designed to facilitate the inclusion of older adults in clinical research, the ISP Core has recognized and will promote its relevance as a tool to facilitate inclusion of multiple special populations. 
In collaboration with the Hopkins (Dr. Karen Roche) and Oregon (Dr. Elizabeth Eckstrom) CTSAs, Barrett Bowling's symposium proposal to the American Geriatrics Society (AGS), titled, Towards Age-Friendly Research: Disseminating best practices to maximize inclusion across the lifespan was accepted for May 2022. The purpose of this symposium is to empower AGS members to support research inclusion of diverse older adults at their own institutions.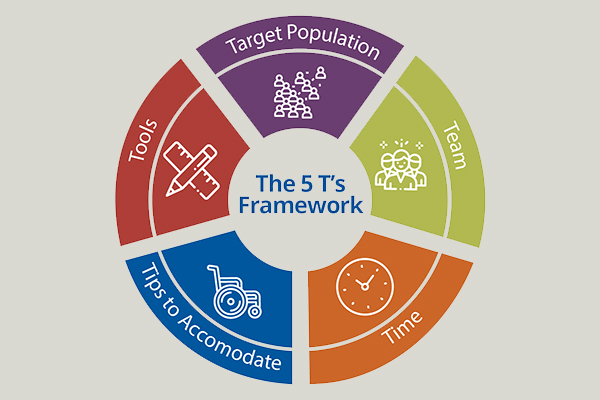 The 5Ts Framework for inclusion of older adults and other special populations in clinical research:
Target Population
Team
Time
Tips to Accommodate
Tools
Expanding the 5Ts to Other Populations
We have expanded the 5Ts recommendations to African-American and LatinX populations across the lifespan and worked with CERI to conduct community consult studios (CCSs) with participants from these demographic groups and with research coordinators who have successfully recruited and retained these populations for clinical research studies.
Using the 5Ts, we generated recommendations on how to increase enrollment of African-Americans and LatinX participants in clinical research from the feedback we received from these community consult studios. 
We continue to code/apply filers for the recommendations we have gathered for African-American and LatinX participants. Once the 5Ts website is developed for older adults, we plan to be ready to expand it to assist investigators to include other special populations in clinical research.